Thanks to those of you who asked how I am, or where I've been… It's nice to know I'm missed when I go MIA for a few days! Aside from being to scared to death to change, touch, or move anything here at From Dates to Diapers new home, I was also away from my real-life home for a bit…
I was in New York City, with a bunch of my favorite gals, for THREE DAYS!! Talk about some good times! We ate, talked, walked, talked, cried, laughed, talked, shared, rarely slept, had a few drinks, cried, and talked some more. Let me tell you, you bring 12 strong, opinionated, beautiful women together and they are bound to make some noise!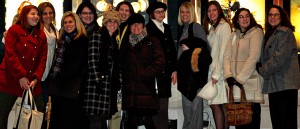 Lindsay, Me, Audrey, Arrianne, Colleen, Tara, Jessica, Katja, Alyssa, Erika, Nikki, Lori
I'm glad to be home with Ray and my kiddos, but boy, do I miss you girls!