What soccer fan doesn't remember Landon Donovan's game winning goal with seconds left in the 2010 World Cup in South Africa? He's had so many… 57, the most all-time for an American.
Now he – and two other World Cup vets Brian Ching, and Stu Holden – are going to be special guests at the Austin Aztex game this Saturday, August 1, 2015 as part of their three-day stay in Austin for their Helm Soccer School and we are super excited to be able to be there!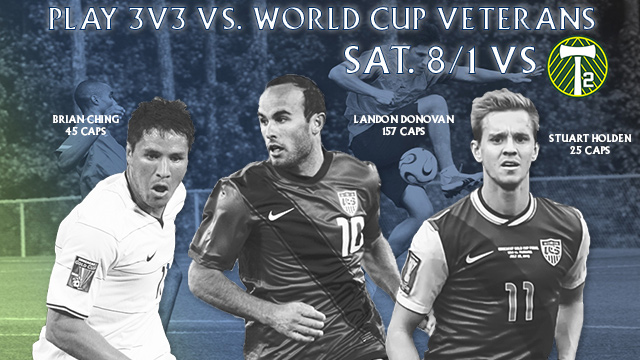 The Helm Soccer Schools camp welcomes all levels of players to learn under the guidance of Donovan, Holden, and Ching. The Austin camp, which runs from July 31 to August 2, are day camps open to children from ages 10-18, both girls and boys. Fans can find more information on the Austin Helm Soccer School on their website.
As part of their mission, these soccer legends have chosen to partner with the Austin Aztex and give the chance for three lucky fans to play a 3v3 game against Brian Ching, Stuart Holden and Landon Donovan during halftime of the Austin Aztex vs. Portland Timbers II game on Saturday, August 1 at Kelly Reeves Athletic Complex in Round Rock, TX.
In addition, there will be communal areas down at the goal line where the kids' jumpy castles and mini-soccer games will be. And Stubb's BBQ is bringing their truck out to serve meals with Big Red, where proceeds raised from sales with help benefit the Aztex Soccer Foundation. You should come on out and join us!
HELM will also auction off additional autographed items at the game, with bidding commencing online and ending at the end of halftime. All proceeds raised from these items will also benefit the Aztex Soccer Foundation. All items, including the 3v3 match, are posted on austinaztex.com
"We are thrilled to bring our inaugural Helm Soccer camp to Austin," said Landon Donovan. "The Austin Aztex have been instrumental in making our first camp a reality and we are excited to be able to support the Aztex as well as the Aztex Soccer Foundation in helping to serve the Austin community."
Disclosure: Our family has received tickets to attend the game on Saturday. Being a family full of soccer players, we are all looking forward to it!