#unpotatofest
Washington DC – The Senate today passed a new law intended to stimulate family dinners.  Informally called the "Un-Potato" bill because it effectively bans boring potatoes from the dinner table, the legislation will give each American family $2.51 to buy three packages of Stove Top Stuffing Mix.
"Americans have suffered from boring dinners for far too long.  That's why this bill is desperately needed, we must stimulate family dinners," said Senator S.O. Hungry (D-California).
If signed by the president, the bi-partisan legislation will direct the U.S. Treasury to send a stimulus check to every American family beginning on June 1, 2011.  All checks are expected to be sent by March 31, 2015.
"Studies show again and again that boring dinners plagued by too many potatoes lead to shorter meals resulting in less conversation at the table," said Senator Les Potatoes (R-Texas).  "It's tragic and that's why we had to act."
Opponents of the bill, primarily senators from potato consuming states, contend that Stove Top Stuffing Mix is too exciting and will unfairly punish people who want a less mouth-watering dinner.
A conference committee will meet and work out the differences between the House and Senate bills.  Among the most striking differences, the Senate refused to outlaw the potato completely, unlike the House version which would have rounded up all potato farmers and taken away their seeds.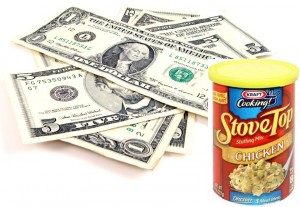 I have received compensation for participation in the "Un-Potato" campaign from Kraft Foods, through Technorati Media. Submit your own "boring" potato entry for a chance to win a $100 American Express gift card.  Full contest rules at: http://technorati.com/stovetop-unpotato-contest