Where can you find the most amazing pool on the Island of Oahu?
Ask any Disney Imagineer and the answer you'll get is, "At Aulani, of course!"
That was one of the goals: to build the best pool. But Disney didn't stop there, although it certainly is the focal point of the entire resort.
We found this to be true when Disney invited us to visit Aulani last month. Bringing additional fun to the pool are two water slides in a Thunder Mountain Railroad inspired design, one of which dumps out into the winding river. The other is a pitch black tube that delivers you into the pool. And if you arch yourself, you'll fly through the darkness at top speed!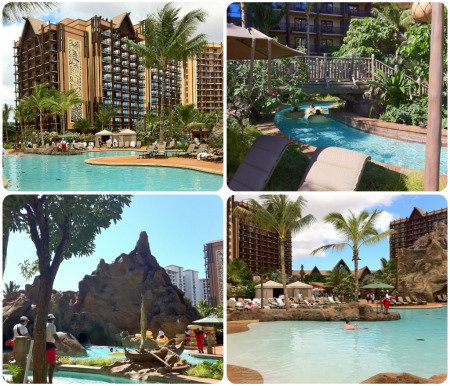 "But, where do you go to relax?" you ask. There are three strategically quiet hot tubs in which to enjoy your cold drinks while hidden away.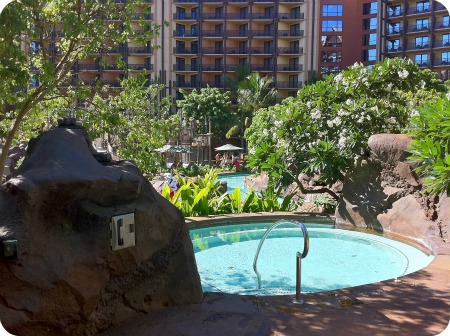 There is no need to leave Aulani for meals. There are two full service restaurants serving classic American and Hawaiian dishes, and three bars with all of your favorite island libations – one of which looks like a Hawaiian fisherman's shack – next to the pool.
The kiddos have tons of stuff to do, too. A big hit with the tykes is the water park, complete with spinning water wheels and buckets. Mickey, Minnie, Donald, Goofy, and Stitch will occasionally make appearances and there is a Disney character breakfast, but the best thing for the kids is Aunty's Beach House. Aunty will keep your young ones busy with fun Hawaiian-themed activities and games from 9am to 7pm every day!! Check out Julia's post about what she thought of Aunty's Beach House.
Oh, I almost forgot… The mischievous "little people" of Hawaiʻi lead guests on an interactive journey along Menehune Trail. You won't find Mickey on this adventure, but you can expect lots of Disney magic at every turn.
One of our favorite reasons to visit Aulani is the private lagoon out back and the amazing sunsets you'll see there.  When you visit be sure to catch a gorgeous Hawaiian sunset while dining at 'Ama'Ama. There is nothing quite like it.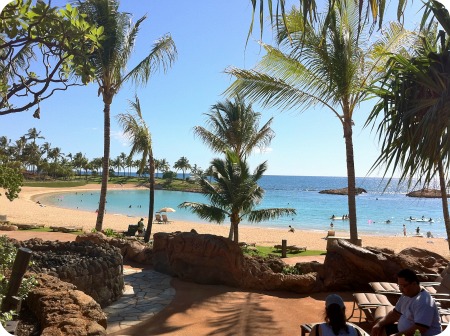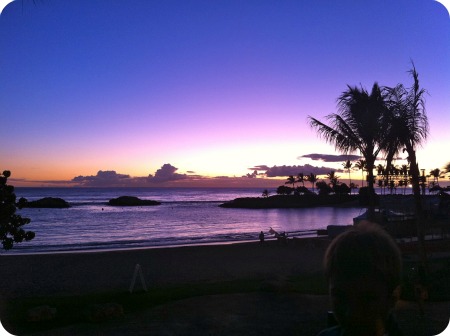 We were on a quest to find the best place to snorkel on Oahu. We discovered that it's best to skip Hunama Bay. While it offers gorgeous views, the water is crowded and cloudy. And they charge $7 and make you watch a silly video before accessing the beach. At Aulani's Rainbow Reef, however, you will be quite satisfied, as it's complete with tropical fish and beautiful coral.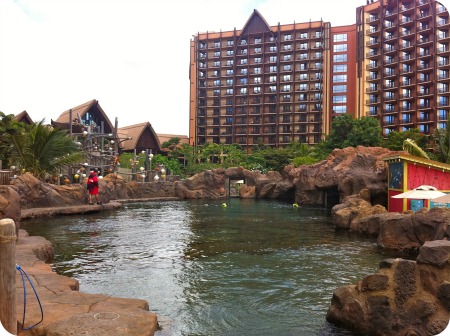 We didn't leave Aulani for four days straight…and only then it was to see Pearl Harbor and Diamond Head.
At Aulani you will find lots of the Disney magic that you love, but you will find it as you learn about Hawaii and the culture that makes the islands so unique. Uncle and his fireside chats about Hawaiian culture bring an added element of authenticity. Only at Aulani will you find this particular type of magic.