This post is sponsored by the Center for Parent and Teen Communication. All opinions (and memories!) are my own.
Then :: She was such a little mama, flitting about to make sure her brothers were happy and included. I suppose that's what happens when you are surrounded by babies from the time you yourself were a baby. Helping to feed, clothe, bathe, and change the little ones, Julia quickly became someone her brothers could rely on. She would carry Ben around everywhere and even speak for him before he could speak for himself. She would gently reprimand Noah and console him when he was sad. She would sweetly sing Timmy to sleep. And, she's always been a close friend to Ethan, Zach, and Josh.
Now :: Not much has changed. Julia is still a trusted friend and confidante to her brothers. She is a great listener and will sit and talk with her brothers for hours, helping them solve their problems. She is a sounding board and will do anything for her favorite guys. She is revered by her younger brothers, protected by her older brothers, and fiercely loved by them all. And, she still loves to sing!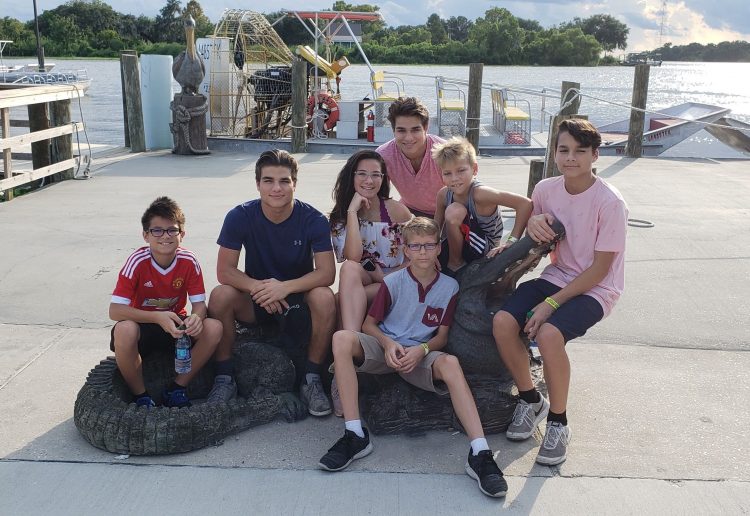 Babies become young adults. The thought is sad to me, but I am truly enjoying who my children are becoming as they grow and mature. It's fun to see that all the things I loved about their babyhood and young childhood are similar to what I am now seeing in the teen years.
What are your favorite babyhood memories? What awesome things are your teens doing now?
We could all use some guidance on this parenting journey and that's where the Center for Parent and Teen Communication comes in – they are a valuable resource for every parent navigating the teen years. In fact, check out this piece from Dr. Ken Ginsburg.
The following video is great, too. (Warning: It may be a bit of a tear-jerker.)