I've mentioned here before that I'm not the craftiest person around. In fact, I need step-by-step directions for anything I make. And, a picture.
BUT, I'd really like to change that, so I recently accepted Elmer's challenge to let my inner crafty loose in a Spring DIY Creation Contest.
Elmer's developed a Spring Creation Guide, with the step-by-step instructions that I need to create five simple home projects—from a wine rack to wall art—using the  multipurpose glue everyone should have around the house: Elmer's Glue-All. They challenged me to make one of these creations uniquely mine or create something totally new using Elmer's Glue-All.
To help with materials, Elmer's sent me a Spring DIY Kit, which included all of the adhesives I may need, and a $50 VISA gift card to use for materials.
I chose to make something totally new. (I know – I surprised even myself with my decision!) Julia and I actually decided to decorate a photo box with scraps of paper, jewels and stickers. We didn't have a picture, but how hard could it be?
We found our white photo box at Target and bought some stickers there, too. I already had a plethora of scrapbooking paper, so we picked out some of our favorites and got to work.
Julia enjoyed tearing apart the paper in big pieces to place over the box lid. We then sprayed each piece, as well as the box lid, with Elmer's Multi-Purpose Spray Adhesive so the colorful pieces of paper overlapped, covering every bit of white on that lid.
We used our X-ACTO knife to trim the edges around the inside of the lid, then placed the jewels, stickers, and the letters in the word LOVE just so.
When everything was in it's perfect place, we spread a thin layer of Elmer's Glue All (diluted first with water) over the entire lid with a brush, sealing everything into place.
Voila!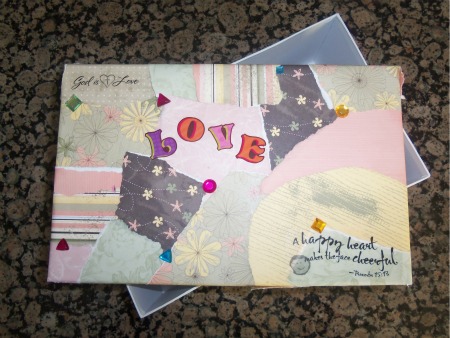 Easy enough for even this non-crafty mama! Okay, I admit… Julia was really the creative genius for this one! But, now I have a picture, so I could certainly do it again!
Win it!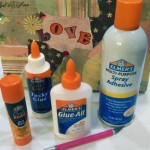 Elmer's would like to send a special adhesive kit to THREE of you! Your kit will include:
Elmer's Glue-All
CraftBond Tacky Glue
CraftBond Extra Strength Glue Stick
Elmer's Multipurpose Spray Adhesive
X-ACTO Gripster Knife
To enter, check out Elmer's Spring Creation Guide and let me know which project you would consider and how you would make it your own. Leave me a comment before 9pm (PT) on May 20th. (U.S. entrants only, please!)
For additional entries you may send out a tweet with a link to this giveaway and/or give it a thumbs up on Facebook by clicking the "Like" button in the top left corner of this post. Be sure you leave me a separate comment for each task.
Happy Spring Crafting!
Benefited Giveaway