If you've been a friend of mine for any period of time, you know that I am not a big fan of cooking, but that I love to bake. My kiddos, however, love to be with me in the kitchen, no matter what we are making. (Of course, it's only an added bonus if we are baking up a sweet treat!)
Because I tend to have my children take turns with me up at the counter, I regret to say that they never spent as much time in there with me as they would have liked. As much as I love to have them in there gelping, it was just too much work. Keeping my older kids from plowing over my little ones, keeping them all from bickering, and hovering so no one fell was just too much when I was preparing dinner.
I recently asked my friends on Facebook how they involve their kiddos in the kitchen. Here are some of the answers I received:
I gave each of my girls some kid friendly cooking supplies for Christmas this year. They take turns in the kitchen with me. My 7 year old even goes through her new cookbook and puts grocery items on my list. It's been really fun for us!
First by looking at cookbooks, making a list, going shopping, setting out the ingredients, preparing each then putting them all together. Having done that I now have a 17 year old becoming a chef!
I wouldn't mind asking you that question actually. I have 5 aged 6 and under and all but 1 of them (my 15week old) want to be in on everything. My 6 year old is a keen cook but I feel like I can't have him help unless the others and involved too.
This last comment got me thinking… Oh, how I wish I didn't have to shoo my kiddos off.
Why do I? Well, the answer was simple – It's just too dangerous for them all to be hanging on the counter or precariously situated on stools and chairs. Wouldn't you agree?
Then came the request asking me to review the Learning Tower. This fabulous invention is much more than a step stool. It was designed for children ages two to six and has a platform that can be lowered as children grow, to enable children at any stage to be at counter height.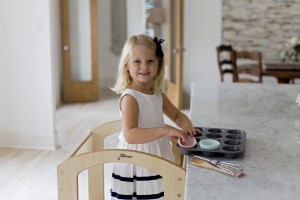 Now, thanks to the Learning Tower, I can have all of my kiddos with me in the kitchen. I don't have to worry about the little ones being pushed around or shoved off a stool or chair unintentionally. The older ones are tall enough to stand, Josh stands on a little stool, and Ben and Noah are in the Learning Tower. All are there to help, with no one stepping on another.
Oh, and the Art Easel? I love it. My kids love it. Pure genius!
Guess what?
The fabulous folks at Little Partners have offered to give one of my blog friends a Learning  Tower of their own to enjoy! All you have to do to enter is leave a comment, before 9pm on March 7th, telling me how you get your child/ren involved in helping you in the kitchen. Easy peasy!