I love being with my children. In fact, I miss them when they are away. But, all too often have I come to realize that I am just merely present, but not truly intentional. My kids may be playing a game or reading a book, but most of the time I am doing my own thing. It's easy to do this as a busy mom… I have so much to do each day that I tend to forget to take the time to really see my kids.
They say the darndest things, our kids. They do the funniest things. But, how often are we too "busy" to notice? Like me, do you find yourself "hushing" and "shushing," instead of actually listening? Do you treat your kids like little roommates? I know that I do.
So, how do we become more intentional?
First, let's look at what it means to be intentional. The word intentional is an adjective and means "performed with awareness; done deliberately, consciously, or on purpose."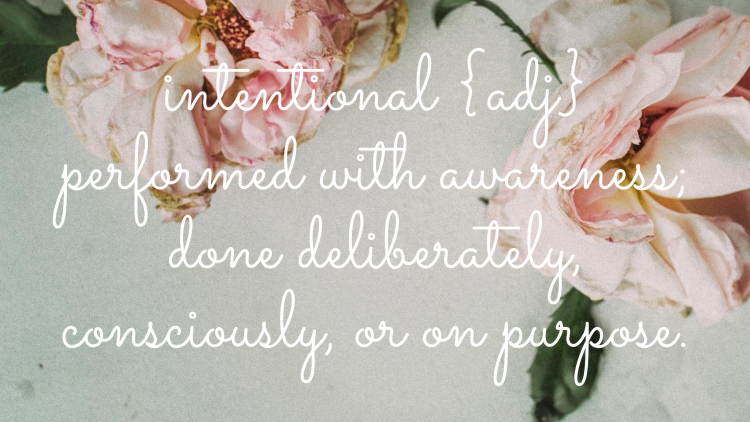 Here are some of the ways that I am trying to become more intentional:
Look your kiddos in the eyes when they say your name. They are saying our name to get our attention. No matter how old they get, they need us, and nothing is as important as showing our children that we care about what they have to say.
Play with your kids. Don't just watch your children play that game, but get down on the floor and play with them. Our presence is important, no matter how old they get, but interaction is even better.
Sit next to your kids when they are reading and ask them to read aloud to you. Discuss what they've read and imagine the story coming alive together.
Don't just ask them about their day, but ask them what they learned, who they sat with at lunch, or how they brightened someone's day. And, really listen to their answers.
Answer the tough questions. Even toddlers ask tough questions, but those questions will become more difficult and uncomfortable to answer as our children grow and mature. Don't shy away from them, or they will stop asking you about things in which they are curious. Instead, answer those questions and they will continue to confide in you and trust you. 
Show them. It's easy to tell our children how to do something, but it means a whole lot more when we come alongside them and show them how to do it.
Go on adventures together. Explore, run, jump, climb. In short, just spend time having some fun together.
Will you pledge with me to truly strive to see our kids and not just watch them grow? Let's seek to become more intentional and explore the world with them… it's so much more fun!