Do you like to sample new and interesting wines from around California? Or, perhaps you know someone who has everything, but enjoys good wine… What a great gift a shipment (or even an entire club membership) from The California Wine Club would be!
We hadn't ever heard of the Tulip Hill Winery until The California Wine Club sent their December selection to us.  Turns out it's in Nice, California, where they make some amazing reds.  (I don't even know where Nice is, to be honest.)  But, thanks to the club, we experienced the 2009 Cabepulciano (45% Montepulciano and 55% Cabernet Sauvignon).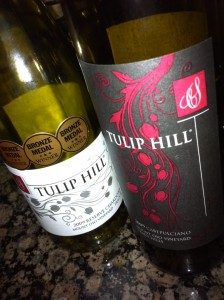 We aren't wine connoisseurs by any stretch, but we know what we like.  This red was one of the best we've tasted recently and it suited both our palates; Me – sophisticated and refined, Christine – amateurish and inexperienced. Shhhhh…don't tell her I said that.
The white for December was Tulip Hill's 2009 Reserve Chardonnay, which was excellent chilled.  We aren't huge white wine fans, but this was a good one and made for a great starter when a couple of buddies of mine visited…but I did get in a bit of trouble for not waiting for Christine to get home.  Whoops!
Chris and I both think that a membership form The California Wine Club would make a fabulous gift. Not only would it be nice for wine enthusiasts, but would be a fabulous idea for the friend or family member who has everything!
Ooh, and guess what? You can receive a special 10% discount when purchasing gifts from The California Wine Club, just in time for the Holidays! Be sure to use promo code datestodiapers when ordering.
If you would like to try out The California Wine Club, you can use the same promo code and not only will they take off 10% off your first month, but they will also send you an extra bottle of wine in your first month shipment as a special joining offer for being one of our friends. There is no obligation to stay past the first month, but we're pretty certain you'd want to!