Even though Mother's Day is over, we can still celebrate the sisterhood of motherhood. In fact, Nestlé Family is hosting a special Facebook program that helps us honor the special moms in our lives while simultaneously raising donations and awareness for Mercy Housing.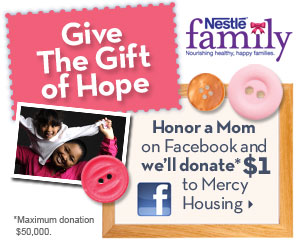 In case you are not familiar with Mercy Housing, let me tell you a bit about it :: Mercy Housing is a national organization that is working to create a more humane world where poverty is alleviated, communities are healthy and all people can develop their full potential through affordable housing and supportive programs.
Nestlé Family has provided me with three $50 charitable gift cards. The cards allow the recipient to donate to one of thousands of charities, including Mercy Housing. Nestlé Family sent me three cards, so I could keep one, honor a mom who's special to me by giving the second gift card to her and finally, I get to give the final $50 to one of you!
Win it!
To enter to win the third $50 charitable gift card, please leave up to one comment for each of the following, before 9pm (PT) on May 20th:
Tell me about a charity that is near and dear to your heart.
Tell me about a special mom who you look up to and admire. It doesn't have to be your own mom, but it certainly can be!
"Like" the Nestlé Family Facebook page and honor a mom.
Please leave your email address in the space provided when you leave a comment, so the charitable gift card can be sent to you should you win.