My kids have always loved to play with me in the kitchen. With Easter coming up, I decided to let them help me create a special treat. They like to call them "dirt cups", after a dessert served at their favorite restaurant, because that is exactly what they look like!
They all helped me shop for the ingredients at our local Walmart. When we returned home, my kids were ready to get started! I gave each of them their own Snack Pack Pudding Cup, two Oreo cookies, a marshmallow, and a piece of Rips licorice candy. I had a bowl of water and a bowl of orange Jell-O set aside, so I could help them coat their marshmallows to make them look like carrots.
The process was easy peasy for even Timmy to do mostly on his own:
The Oreo cookies were placed in a small ziplock bag, and my boys proceeded to smash the cookies to little bits. I think that was the most fun part!
They then opened their Pudding Cup – super simple with the EZ open lid – and poured half of their cookie crumbs in to the pudding, stirring it in well.
The rest of the cookie crumbs were placed right on top, and the cup was set aside for a minute.
Marshmallows were then covered with water and then the dry Jell-O to coat it well. A small slit was cut in the top of the marshmallow and the licorice was tucked inside. Each "carrot" was then placed on top of a cookie covered pudding cup.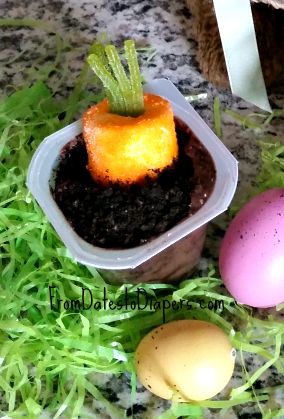 This was a super fun and delicious way to spend an afternoon in the kitchen with my kiddos! Find more mix-in recipes at snackpack.com and snackpackmixins.com.
As a participant in the Walmart Moms Program, I've received compensation for my time and efforts in creating this post. All thoughts and opinions are my own.