Before I get in to what an amazing day today was, I must say that boarding the Disney Fantasy yesterday was such a thrill. I was on a Disney cruise ship. On vacation by myself. No work and no responsibilities for three whole days.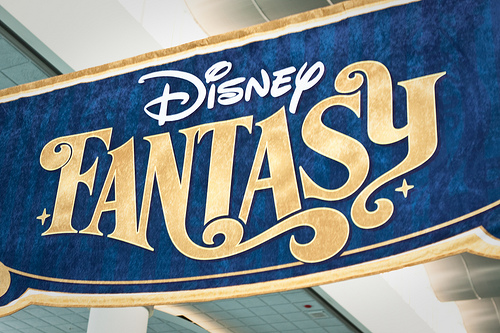 Before Janice and I even found our stateroom, we did a bit of exploring and I decided that someday Ray and I would be back with the kids. There is so much for the whole family to see, taste and do… I was truly enchanted and I knew my kids would just be thrilled with the wide array of fun onboard.
After being greeted by a tote bag full of goodies waiting on our beds – including media credentials for me, which was a sweet surprise – we decided to change into our swimsuits and treat ourselves to a drink at Quiet Cove Bar, near the adult-only pool.
Our first evening of sailing was rough. I began to feel a bit lightheaded and was afraid I was becoming seasick. Dinner at Animator's Palate would have been so much more enjoyable if I had been more prepared. Assuming you don't get seasick after only being on one single cruise is a very silly idea! I learned that one must always be prepared.
At any rate, today I felt so much better. I did lounge in bed a bit, but do you blame me? I mean, who could resist a big comfy bed and no other sound but the crashing of waves against the side of the ship?
Today was the day we were in port; the day to explore Castaway Cay, Disney's privately-owned island in the Bahamas. Oh.My.Word. It is gorgeous! Just a short distance from where the boat was docked for the day, we discovered where any kid would have a blast spending the day, complete with water slides and a plethora of kid-friendly activities. On a bit further we found an overabundance of fresh fruit and other yummy things to eat.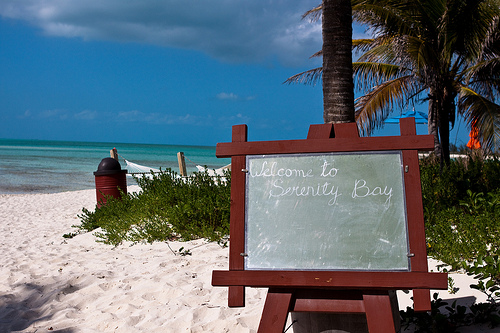 Janice and I made ourselves comfortable on the beautiful beach at Serenity Bay, frozen drinks in hand. What a peaceful and relaxing place to spend the afternoon! It was near perfect… Only the addition of my hubby (and perhaps an open-air massage) would have made it completely divine!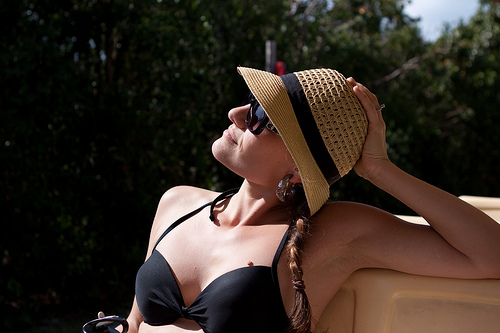 The Disney PR team treated the bloggers onboard to a fabulous dinner experience at Palo, and were kind enough to include me. Palo is an elegant hideaway serving Northern Italian cuisine just for grown-ups. It felt like a lavish girls night out, as I dined with two of my very best blogger girlfriends and enjoyed a bit of girly conversation. It was the perfect ending to a nearly-perfect day.