Most people love visiting Hawaii, but have you ever thought to compare Hawaii to Costa Rica?
I suspect many haven't. I sure didn't, at least not until 2005 when I visited this gem of a Central American country.
About the size of Vermont and New Hampshire combined and with a population of only 4.5 million, this country's overwhelming natural beauty lived up to its billing.
I spent nearly five days hidden away in Costa Rica's lush mountain rain forest while visiting La Montana Christian Camps.
It was a fantastic experience being greeted every morning by the calls of howler monkeys swinging in the nearby canopy and exotic birds chattering to one another.  What's more, the miles of nature trails, rivers, zip lines and other tree top activities gave a thrill unlike any other I've experienced.
Before heading back to California and my family, we spent a day at the base of Mount Arenal at Tabacon Grand Spa.  It was one of the most unique and amazing experiences.  Imagine sitting in shallow rivers and under waterfalls of 100 degree water; water heated by the nearby volcano.  It was the most relaxing thing ever.  And anything you wanted was at your fingertips – drinks, food, a massage.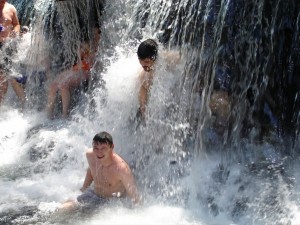 But there was one thing on my trip to Costa Rica that I didn't get to do: the beaches and snorkeling.  However, if they're anything like the rest of the country, I'm sure I wouldn't have been disappointed.  Many surfers and vacationers consider Costa Rica's sandy stretches among the best in the world.
So why might Costa Rica be a better choice than Hawaii?
Because it's a fraction of the cost to visit.  You get the same tropical experience – maybe even a more diverse one with the volcanic spas thrown into the mix – and you can do it for much cheaper than notoriously expensive Hawaii.
It's also important to keep in mind that Costa Rica has a very stable government, is very friendly to the United States and because most vacation spots cater to Americans, English is understood and your dollars are accepted with pleasure.
Don't get me wrong, I love Hawaii (having been twice), but for our next tropical vacation we're seriously considering Costa Rica. I'd love to return and we'd save some serious cash on a fantastic vacation with our large family.
This is NOT a compensated post.