Looking for a fun way to celebrate Valentine's Day as a family? Well, how about celebrating this day enjoying a  yummy ice cream cake with the ones you love? That's exactly what I plan to do with my family, and perhaps we will even make it a new family tradition!
Baskin-Robbins has amazing cakes – we have enjoyed many! But for this holiday, they have introduced three new delicious cakes to celebrate:
Chocolate Dipped Strawberry Ice Cream Cake – Made with layers of Very Berry Strawberry and Chocolate ice cream, the 6-inch fully decorated round is frosted with rich chocolate-flavored whipped topping, topped with a strawberry glaze and features a customized love note.  Serves up to 8; $19.99.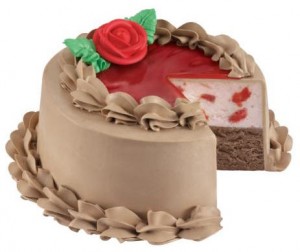 Sweetheart Ice Cream Cake – A sweet and simple way to say "I love you," the Sweetheart cake is ¼-round and dotted with adorable mini red icing hearts, a red chocolate heart and a single red rose. Serves up to 8, $12.99.
Double Chocolate Chip Ice Cream Cake – Perfect for chocolate lovers – a  fully decorated 9-inch round cake, featuring Chocolate Chip ice cream over Devil's Food cake, frosted with chocolate flavored whipped topping and borders, and finished with a rich chocolate ganache glaze. Serves up to 16; $29.99.
YUM!!
Baskin-Robbins sent me gift certificates to purchase a cake to enjoy with my family for Valentine's Day, in exchange for this post.