Friendships. They can be tricky. Friends. They can be the source of our tears of joy and of pain. But, they are absolutely a necessity in life. We were made to thrive on interactions with the people around us.
Unfortunately, hurt and betrayal can cause us to shy away from fostering our friendships or making new ones. Social media can become a crutch and allow us to hide from the real world. But, we should never allow for these things to cause us to avoid spending time with others in real life.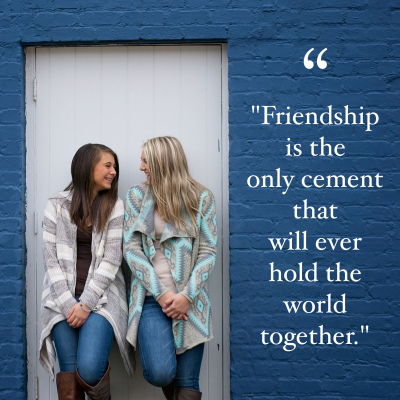 Why do we crave friendship?
We were not created to be alone, rather we are relational beings, made to love one another. None of us can make it on this earth all alone; we need each other.
I once thought that I suffered from severe FOMO (Fear Of Missing Out). I've realized recently that it's not so much that I fear missing out. I just really enjoy being with people! My friends, new and old, are incredibly important to me. Sure, like anyone else, I desire to be included, but fostering relationships with those whom I love far outweighs that desire for inclusion.
Have you ever really thought about what it means to be a good friend? What are the qualities you look for in a friend?
I know that everyone has a different idea of what it means to be a friend. I also know that I'm not everyone's cup o' tea. But I have discovered what qualities I want in a friend, so I can be that friend, first and foremost.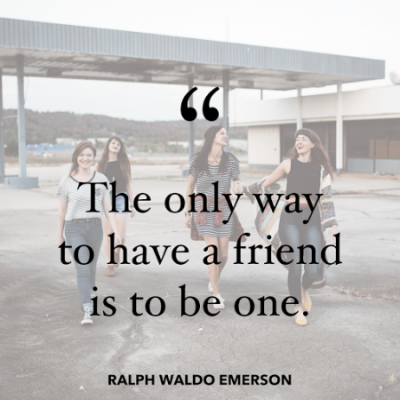 Once I've let you in, you're in for life. If I know I can trust you, I let my guard down and I am 100% real. Sometimes it takes a little while.
Loyalty and honesty are incredibly important attributes to find in a friend. Love big. Be supportive. It's okay to disagree, but don't let those disagreements define your friendship. Be a good listener and strive to always be honest, even if it stings for a moment.
It is a personal priority for me to make time for my friends… I love having people in my home and simply enjoy doing life with my friends. Any friend of mine will know what they mean to me, as I try to make a point to remind them often.
True friends are hard to find, but God tends to place them in your life when you least expect them. Hold on to them!
How many friends do we need?
In the recent past, I was told that I seemed to enjoy "collecting friends." I'm not quite sure if it was meant as a compliment or a dig, but at any rate, I am a lover of people and I recognize a deep need for connection through mixing and mingling with acquaintances or spending time with friends. My friends have made me a better person, even if they are now no longer in my life.
As iron sharpens iron, so one man sharpens another.

Proverbs 27:17
Let's look at Jesus' life as our best example. He, too, was a collector of friends!
Throughout the New Testament, we can see that Jesus had a "best friend" in John. John was with Him until the very end. John even risked his life for Jesus when he refused to leave the foot of the cross that Jesus hung upon.
In addition to John, Jesus had two other very close friends – Peter and James. These three men knew Jesus better than anyone else. They were His "inner circle."
Then there were the 12 apostles – His "tribe," if you will. Jesus shared many personal things with this group. They experienced quite a lot together, including sitting together at the table for one last meal before Jesus was betrayed by one of them. (Yes, Jesus was betrayed by someone who was a part of His tribe!)
Beyond these 12, were Jesus' many followers during His time here on the earth. They desired to be near him and spend time with him, too. No one was ever excluded, not even the one who would betray Him or those who doubted Him. While He didn't share His most intimate moments with all of His followers, he did share a great many things with them and made time for them.
Friends are like flowers.
Just the other day, I heard a beautiful analogy likening friends to flowers. It went something like this –
Some flowers are weeds, slowly choking us. There are poisonous flowers that cause pain and heartache, deceiving in their beauty. Some have thorns, with the ability to cause much pain. Others come around every so often – you know they are there just waiting to make you smile at the perfect time. Some flowers bloom all year long, providing a constant in our life, no.matter.what., while some bloom for a season and then die. Each type of flower has a purpose and together can create a beautiful bouquet.
My prayer is that we each may gather together a vast array of petals and stems, recognizing how important each one is in creating a beautiful bouquet as the centerpiece for our lives.