I shared with y'all when Ethan finished his Invisalign treatment, but I am so happy to report that Zach is finally done with his Invisalign treatment, as well!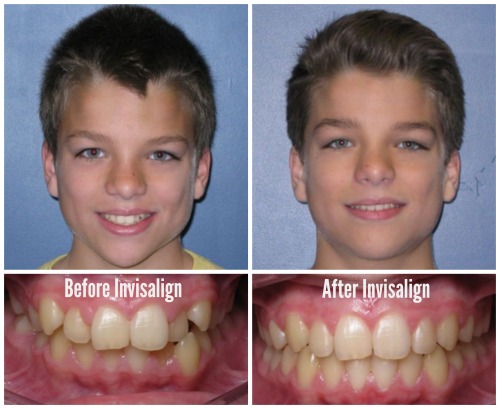 What a difference, right? (Hop over real quick and see Ethan's transformation. I'll wait.)
While he is done with his treatment, he still has to wear a retainer. The attachments were removed, new impressions were taken, and retainers were made to fit his new smile. He must wear his new clear retainers around the clock for the first few months and eventually just at night. But, he has to wear them as long as he wants to keep his teeth straight. Basically forever.
A note from Zach's orthodontist:
If we could put Zachariah's teeth away on a shelf and let them stay there, they would remain perfectly straight. But fortunately, they are there to be used. Naturally, as the teeth are used, there will be adaptive changes so they function best. We do not expect them to stay exactly as we have placed them since these changes will occur as the teeth are used. This is not a failure of Zachariah's correction, but nature's changes that we may learn to expect just as we learn to expect changes in other parts of our body as we grow older.
Without retainers, straight teeth can gradually shift back towards their initial position. Wearing the new clear retainers after Invisalign treatment means my boys are keeping their teeth in their new position and protecting their smile and our investment.
There are a couple of things that we need to keep in mind as we move from aligners to retainers:
They must be cleaned each day. Much like the aligners, the retainer must also be cleaned regularly. My boys will brush them with a bit of toothpaste, but they will also periodically soak them in Hydrogen Peroxide.
It is super important to wear them. This may seem like a no-brainer, but after treatment ends it's pretty easy to forget that the retainers but be worn every day, without excuses. If they do not wear them every day, the boys' teeth will go back to their pre-Invisalign state of overcrowding and crookedness. We definitely do not want that to happen!
The retainers must be kept safe. Truth be told, this is the biggest problem around here. I feel like I have to constantly remind my boys to keep their retainer safely in their cases when they are not wearing them. These retainers must last and have to be well cared for.
My twins and I are so grateful for the opportunity we were given for them to have their teeth straightened with Invisalign. I am doing my best to convince both Ethan and Zach to share their story with y'all. I hope I can talk them in to giving you their opinions in their own words. Stay tuned!
For now, see if Invisalign treatment is right for you or your teen by taking the free Smile Assessment. And, find an orthodontist near you that will guide you through the process.
I'm a member of the Teen Invisalign Mom Advisory Board, and both Ethan and Zach have received complimentary treatment.