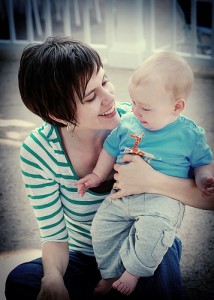 In my quest for a craft-filled week, I have asked some of my friends to help me out with some fun ideas. Today my friend Amanda has agreed to share a wintery weather craft with us.

Amanda is a happy stay-at-home mom to two. She blogs at ohAmanda and Impress Your Kids. She's a member of the 2010 Disney Mom's Panel. And she twitters about all of it @oohamanda.

Please help me make Amanda feel welcome and let us know if you try these mini ice sculptures!

~~~~~~~~~~~~~~~~~~~


When Christine first asked me to do a wintery craft, I knew I wanted to do something with ICE. I love crafts that ::whisper:: you don't have to keep! I saw this great Winter Sun Catcher in our most recent Family Fun magazine and was dying to try it. It consisted of food coloring, ice cube trays and a cake pan. It sounded easy and isn't it pretty?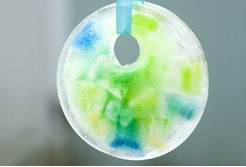 With all the freezing, it took two full days and I photo-documented it every step of the way. My four year old daughter, Lydia was ecstatic about checking on our "ice-thing". However, when it came time to time to take it out of the mold, this is what we ended up with…
Not quite the same, huh? Lydia almost cried. So, we had to jump to Plan B. I have a ton of silicone ice and muffin trays in various shapes (I pick them up on clearance whenever I see a cute one). We squeezed 1-2 drops of food coloring into each compartment. Then we used a measuring cup with spout to fill the shapes to the top.
Instead of trying to do a hole like the Family (not-so) Fun Sun Catcher, we cut some yarn and dropped the ends in the water. (You'll want to cut the yarn significantly longer than the ones shown above.) We had to use a a fork to push the yarn under the water…I tried using my fingers first but now my nails are blue. Oh well.
So, what do you think? Pretty cute, huh? Plus, I upped the ante by adding a quarter to one of the ice-ornaments. Lydia's already staked that one out. It would be fun to put leaves, berries, small toys or glitter inside, too!
This is the perfect craft for any age kids. I think it would be fun for older kids because you could experiment with color combinations and measurements. Little kids just like water. And I'm pretty sure watching it melt is going to be even more fun than making it!