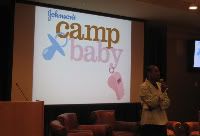 Yes, I have been on quite a few sponsored trips in the last few months and I am hearing all sorts of questions about them. The question that I hear most often is "What are the benefits of these events for the company and/or the blogger?"

Well, first let me touch on what I see companies gain from these events. I have been to events where I felt like I was watching a great big infomercial, with products pushed at me the entire time we were together. But, I have also been to great events where it has been more of a relationship-building, learning experience.

The ROI (return on investment) for the company hosting the event may be the knowledge gained from talking to real moms (Campbell's), establishing a focus group or word-of-mouth marketing team (Frito-Lay's Fab 15), finding the perfect spokesperson for an upcoming campaign (J&J), or simply just creating awareness about their products, services, or current campaigns (Stouffer's and Disneyland Resorts and Walt Disney World). The benefits may include buzz that is created around the trip or, more importantly, it could be just about creating new friendships or maintaining existing relationships.

Second, what are the benefits for the blogger attending? Relationship building, by far! The connections that I have made, both with other bloggers and with the company hosting the event, have been priceless. Because of these connections I have formed life-long friendships, have consulted with companies, become a campaign spokesmom, and even become one of Walmart's ElevenMoms.

Another question that I am asked fairly often is how I seem to be invited to all these events and blogging trips. I've been asked if I'm part of an "exclusive club" or even been accused of being a part of a "clique." That makes me sad! These trips are not "cliquish" in any way, nor are they a result of my relationship with Walmart. Believe it or not, I was invited to brand sponsored events even before I became one of the ElevenMoms!

It is important to understand that each event that I have been invited to has been because of a relationship I am forming with folks in that particular company, because a company found me through an article or my online involvement in areas aside from my blog, or because I was recommended by another attendee. It is not because I whined, begged, pleaded, or even asked. I don't believe in weaseling my way in, pretending to be anyone's friend, in hopes of a free trip. Instead, I have built relationships, both online and off, and it happened to pay off in ways I never expected!

If you are wondering how you can be noticed by companies planning events, take a look at what my good friend Lori Dolginoff, from Johnson & Johnson, recommends. "As a blogger you should take advantage of opportunities to get yourself noticed in a positive light," she says. Join online communities, enter company brand contests (like the Big Bubblin' Stars Contest), engage in positive conversations, and attend blogger conferences (like BlogHer – Lori will be there and she loves hugs!). Make new friends, both online and off.

Are you staying neutral in the blogosphere? Do you engage in positive conversations about brands and products? Are you a key influencer, both online and off? Are you likeable, approachable, and friendly? If you answered yes to any of these questions, chances are pretty great that you will be invited to an event, or two. Please let me know when you are… I want to jump up and down with you!