I grew up in California and have been going to Disneyland since California Adventure and Downtown Disney were parking lots. So the big question I had when we arrived in Orlando last weekend for a three day stint was, "How much alike are Disneyland and Disney World?"
Quite a bit, as it turns out.
The first thing one from the West Coast notices is that Walt Disney World is HUGE. It takes a bus just to get from one park to the next, while in California you can walk to everything. But not too fear, the parks have a great transportation system of monorails, buses and boats.
Yes, that's right, you can take a boat to your hotel if you stay near Epcot Center or the Disney's Magic Kingdom. You leave the park with your Indiana Jones hat and whip and jump on the waiting boat to take you to the hotel. How cool is that? At Disneyland and California Adventure you have to walk, but who wants to exercise when you're on vacation?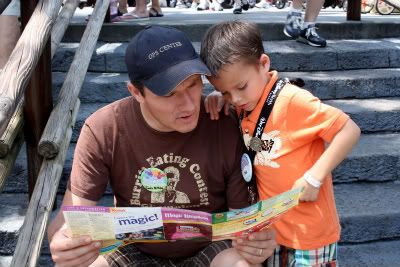 Ray and Josh are mapping out our weekend


So, how do the parks in Florida stack up against to those in California? I'll break it down and give you my thoughts on each of the four parks in Walt Disney World, beginning with Disney's Magic Kingdom.

In the meantime, which Mouse House would you say is better? Is it really fair to compare them?