"Where are we going this weekend, Noah?"
"Mickey's house. See Mickey, Mommy."
That's right, this weekend the entire family and I are hopping on a plane and heading to beautiful Southern California! We did not plan this trip due to Noah's love of all things Mickey, but rather it began with an invitation to attend a special weekend get-away with D3Publisher of America.
We are one of eight families being flown in, all expenses paid, for a special "Behind-the-Scenes" tour on Saturday. In addition to an action-filled day, we'll get to see an exclusive screening of Astro Boy – two weeks before it's official release in theatres!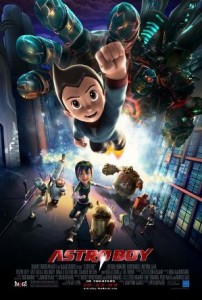 I'm looking forward to hanging out with Tara (aka DealSeekingMom,) and her husband – who Ray and I had the privilege of cruising with last month – and meeting their five kiddos, who are close in age to our six. I know that our kids will have a blast together. I'm also looking forward to meeting several other bloggers who I know only virtually.
Since we'll be in Southern California we can't pass up a visit to see Mickey! Truth be told, Noah could care less about Astro Boy or video games; he wants to see Mickey. I always thought that four or five was the best age to take the little ones to Disneyland, but I have a feeling it will be a magical day for Noah!