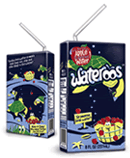 My kiddos are constantly asking for something to drink, especially in these hot, summer months. They've given up on asking for soda (we don't generally have it in the house anymore), but when they can get their hands on juice boxes, they are in heaven.

I was thinking, though, about the amount of sugar they were actually drinking. Sure, they were drinking water too, but not enough. And then I found out about Wateroos, the "water in a box." These handy little boxes of 100% purified water, and all-natural flavored water, were my answer to how to get my kiddos to drink more of what is good for them, without the sugar. The box makes them feel like they are just as cool as the other kids, while I don't have to worry about what they are drinking… Seems like a win-win, to me!

I was happy to find out that Wateroos were created by a mom – A mom destined to find a healthy alternative to all of the sugary drinks out there.

Oh, I almost forgot — Zach, Ethan, and Josh will be the first (second, and third) to say that the Apple flavored water is the best! Julia, however, prefers just plain water, and is thrilled that she can drink it from a box, like her brothers!