A fire pit is often overlooked, it seems to me, when people are putting their backyards together.
BBQ, check.
Patio furniture, check.
Fire pit…do we need that?
The answer is, "Yes." But, only if you want to have great fun on many a cool summer evening with your kids.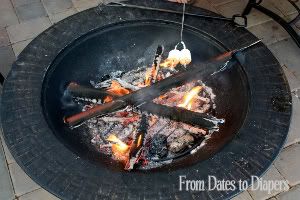 I can bet that they will love roasting marshmallows over the fire pit. Who doesn't have fond memories of camp as you shove a sticky, burned mess onto a graham cracker, add a slab of chocolate and make it a sandwich?

While the madness for the last piece of Hershey's takes place, Ray and I love to sit back, let our BBQ meal settle and sip on our favorite drinks. And, as the sun fades to black, sometimes Aunt Lisa will tell "scary" stories around the fire and goose bumps show up, despite the heat of the burning wood. This really is a great way to spend quality family time together.

Just be sure the older kids don't brand the younger ones with the fire stoker.
*I was able to purchase this Better Homes and Gardens fire pit as part of a campaign, through my involvement with the Walmart Elevenmoms. I did not receive any other form of compensation.