Timothy is the only kiddo home with me during the day, while all of his siblings are at school. Often he gets quite bored with me and Bella, and I resort to putting on a Netflix show or two for him in the afternoon. Of course, he has his favorites, but fortunately his favorites are mostly entertaining and educational for me, as well!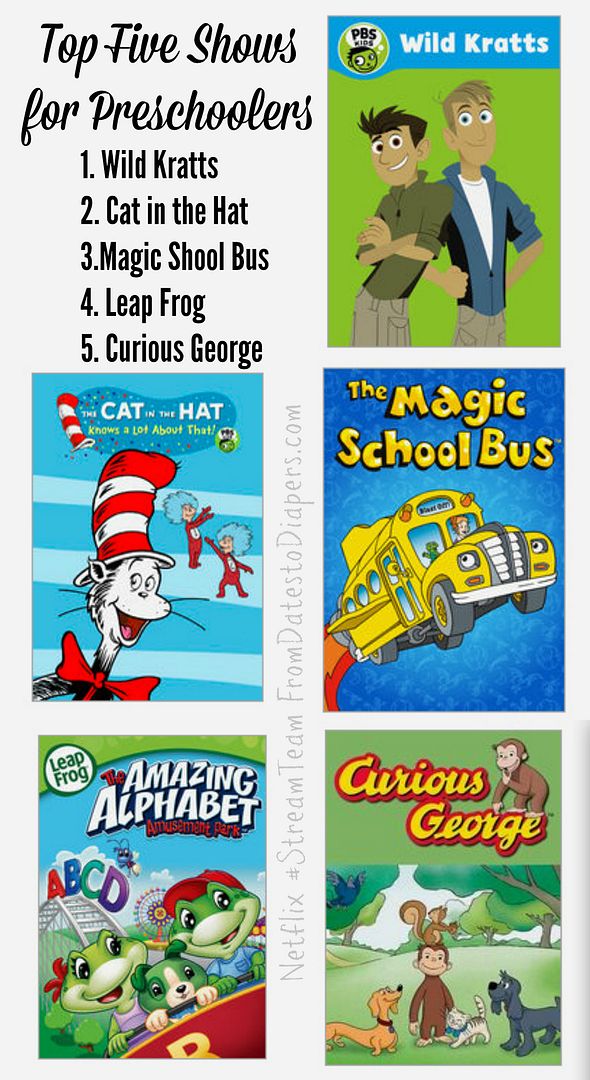 Wild Kratts – Zoologists Martin and Chris Kratt morph from live forms into their animated selves, complete with Creature Power Suits, in this animal show for kids.
Timmy loves the Kratt brothers and has learned so much about animals that he often schools us! He is fascinated with crocodiles, dolphins, hummingbirds, and more. The zoo and aquarium are his favorite places to be because of this show!
The Cat in the Hat – The Cat in the Hat is back — and this time, he's teaching Sally and her brother, Nick, some awfully nifty things to think about!
The Cat in the Hat knows an awful lot and teaches Sally and Nick throughout this show. It's a cute and silly show, but there is lots to learn and it keeps Timmy entertained 28 minutes at a time.
Magic School Bus – Join Ms. Frizzle as the Magic School Bus travels to outer space, under the sea, through an anthill — and even inside the human body!
I read the Magic School Bus books to my older kids, so watching the show with Timmy is a special treat.
LeapFrog – In these fun early-learning shows, frogs, puppies and their friends encourage kids to use songs, rhymes and games to learn colors, shapes, letters and more.
Learning the sounds of the letters is fun when you pick up the catchy songs on these shows. Timmy sings them even when he is away from the TV!
Curious George – Little ones can learn a lot from George — one of the most curious monkeys in all of literature.
Who doesn't love Curious George?! He always seems to be getting in to mischief, but learns a thing or two in the process.
What are your preschoolers favorite shows?
Disclosure: I am part of the Netflix Stream Team. While I have not been monetarily compensated for the creation of this post, I have received some perks, including a Netflix subscription. All opinions and thoughts are my own, as always.