As you may know, I am on a quest for health and fitness. A huge push has been my recent diagnosis with Fibromyalgia, but the fact that I weigh a whole lot more than I ever have (excluding while pregnant, but including immediately post-partum) plays a big part, too.
I've mentioned before how I have been trying to carve out the time to exercise, but it has proven to be a bit more difficult than I had hoped. School with Ben and Noah, playing with Timmy, alone time with Ray, work, chores around the house, and our new puppy all seem to take priority over getting in shape.
Well, as part of the Families in Motion campaign, I have committed to spend more quality time moving with all of my kids, and I think I may have found a way to do it all… I found my very own personal trainer, thanks to an app on my Samsung Smart TV – Fitness VOD. With this app we have immediate access to dozens of fitness videos, and they are all tons of fun. If I can keep it up, I am hoping that I will move my flabby abs, booty, and thighs in to a firmer, stronger, leaner body.

Ethan, Ben, and I have had the most laughable times moving along with the videos in the Fitness VOD studio, especially when we have the Virtual Mirror turned on! I always knew my boys were goofy, but it cracks me up every time they turn silly while doing something serious…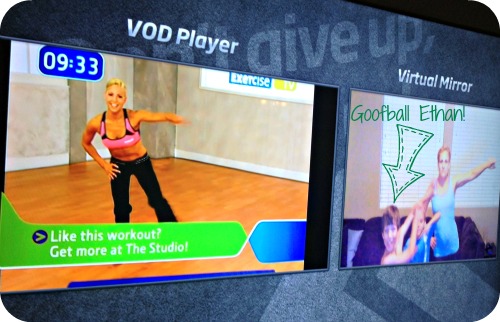 Now, I am not at all in shape, so even just 10 minutes at a time is tiring. But, you know what? I plan to focus on my abs, thighs, and booty, for now. So, 10 minutes is a perfect amount of time to squeeze in several times a day, I don't have to get dressed and load up the kids to head to the gym, and we all are in motion!
I'd say that's a win-win!
This is post 4 of 8 Samsung Smart TV with Motion Control sponsored posts. All opinions are mine