Ray and I are always pretty good about taking time out to spend an evening together, just the two of us. We may have gone "from dates to diapers" but we certainly haven't forgotten about the dates! I truly believe that our date nights have been extremely influential in keeping our marriage so exciting. I look forward with much anticipation to these special nights.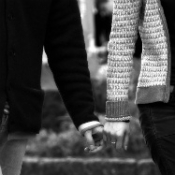 Well, tonight was one such night. Ray and I first headed downtown for the Holiday #SacTweetUp, at Park Ultra Lounge, where I had THE BEST Jolly Rancher martini and we mixed and mingled with other social media mavens. Since both of us are BIG sushi fans, we then headed to Mikuni – our favorite sushi restaurant – and gorged on a plate of spicy seared ahi and some amazing sweet and sour rolls. (Kinda makes you drool for sushi, huh?)
The best part of the night, though, was when Ray stole a kiss during our short walk from one place to another, the playful banter about "parking" just to make out, and the uninterrupted conversation. Together. Without the kids.
How about you… Do you see the importance of date nights?
How do you reconnect with your spouse?
Date nights for us are super important. They provide an opportunity to reconnect in a way that we can't with the distractions of home and family pulling at us. No diapers, no laundry, no pressing emails. Just us.
This post is sponsored by JuiceBoxJungle and Restaurant.com,
however my opinions on date nights are all my own.