It will be two weeks tomorrow since we pulled into our new driveway. While we sorely miss our friends and family back in Cali, we are well on our way to feeling at home in our new place.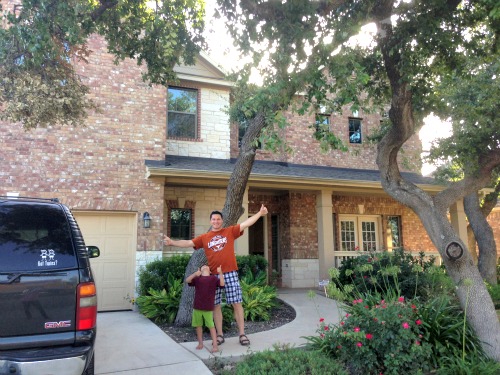 But, to get here we had to take the mother of all road trips…
Ray, two of our (fabulous) friends, and I drove almost 1800 miles.
In four days.
In three vehicles.
With ten children.
And one dog.
Ray drove the moving truck, with a trailer and at least one of the big kids. Andrew drove Ray's pickup, with Caesar and the three remaining big kids. Danae and I had the six littles.
Oy!
We drove over 500 miles on the first day.
From Lincoln to Palm Desert.
We were eager to get on our way. The kids were loaded up with snacks and cold drinks to keep their bellies full, trinkets and coloring books to keep them busy, and their pillows and blankets to stay comfy. We made pretty good time, stopping only a couple of times for potty and stretch breaks.
All was great that first day on the road. Until Ray got the moving truck stuck on a dead end road somewhere in Palm Dessert, that is. It was quite late at night, so he was unable to manuever the big ol' truck around in the dark, so there it stayed overnight.
The lady who lived at the end of the road called in her "people" and they had the truck turned around in the correct direction when Ray arrived to fetch it the following morning. Thank God for nice people… Ray and all of our earthly possessions could have ended up in a deep ravine off the side of the road!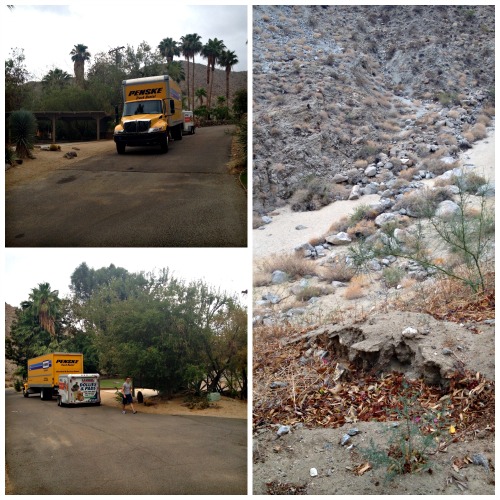 We drove 600 miles on the second day.
From Palm Desert to Las Cruces, NM.
The second day was the longest, but everyone did great. Both Danae and I drove half of the day, all the way through Arizona and most of New Mexico. We stopped for a quick dinner and an excercise break in Phoenix, and then got back on the road.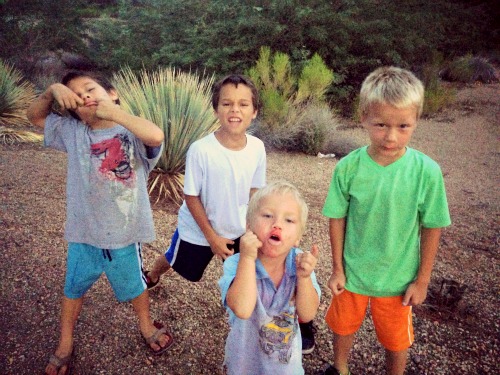 We drove a bit less than 300 miles on the third day.
From Las Cruces, NM to Ft. Stockton, TX.
We stopped a a few more times during this day on the road. Just after we crossed the New Mexico and Texas border we found Rudy's and stopped for lunch. Rudy's has some of the best BBQ for meat-lovin' families!
The kids were getting antsy, Danae and I were all but done, and we just wanted to get there already. So, we got back on the road. We knew for certain that it was time for a pit stop when I looked back and saw Timmy covered in red ink. I guess those marking pens weren't a good idea to put in any of their bags…
This third day was trying for us all. We had every intention of driving from Las Cruces to our new home just north of Austin, but we had to stop about half way and call it a day.
We drove 335 miles on the fourth day.
From Ft. Stockton to our new house!
All of us were full of excitement and eager to see our new house, so this last day on the road seemed to fly by at times and just linger on at others. Ray and the moving truck beat us all to the house, by just a few minutes, and the last of the caravan finally showed up just before 10pm.
I wish I could say that we stopped and saw great and amazing things on the way. But, while we enjoyed the journey (most of the time), we were just really eager to get home.
Running around, giggling, laughing, and playing began the moment we pulled into our driveway. Long in to the night did we celebrate a new chapter, a new adventure.