So, did you see the spot we were in on The Morning Show live, or maybe online? I apologize if you're already tired of hearing about this, but I just must tell you all about it… This was HUGE for Ray and me! Appearing on national television is not something average parents, like us, get to do every day. What an experience!
Besides, I just had to share with you the fantastic tips we got from Sanyika Calloway Boyce, Mike and Juliet's financial fitness coach.
So, first to fill you in on all of the details. If you haven't read my post on how this all came about, go do that now. We had the camera crew here on Tuesday filming our family… They got shots of the kiddos having pillow fights, wrestling with Daddy, eating lunch, and even loading up in our Yukon XL.
They also interviewed me and fed me some sound bites. Ugh, that was my least favorite part. I hope you didn't laugh when you saw the pre-taped interview segment, and if you didn't see it – good! It was a trip, however, to think about how much milk, eggs, and cheese we consume every month. I guess I had never really added it all up before – I just knew how much to buy whenever we went grocery shopping. But, wow!
I didn't have much time after the crew left to get things ready for the kids night at Mimi and Poppy's, let alone figure out what to wear, and pack myself and Noah. The car arrived much earlier than I would have hoped and we left him waiting for 20 minutes before we were ready to head to the airport. I guess that's what happens when you give a family of 8 less than 24 hours notice.
After a grueling night of travel, with an 8 month old, we arrived at the studio bright and early yesterday morning. We had to change in the bathroom, but managed just fine. Thank God for the hair and makeup team… They made us look good, if I do say so myself. They would have changed their minds about having us on the show if we had to appear on TV looking like we did when we arrived!
Mike and Juliet, their crew, and Sanyika were all wonderful! They couldn't have made us feel more comfortable. I truly forgot that I was being watched by thousands of people on national TV! I was watched by thousands of people!! If you haven't already checked it out, go watch.
While I thought that I had some pretty good tips, of my own, on how to cut food costs when shopping for a large family, I was excited to hear from Sanyika.
Here is what she suggested:
Create a plan

Draft up a menu and take it with you on your shopping trip. This is very helpful in avoiding coming home with a random assortment of items and not knowing how to make them transform in to a meal.

Stretch your food and your dollar

Purchase whole chicken versus parts, and use every piece of it, from the skin to the gizzards, to prepare different meals.
Make your milk stretch by adding 1/3 cup water to every 1 cup of milk. You'll get 3 cups more milk by doing this and the kids will never know. (Unless, of course, it's broadcasted as a suggestion to your parents on national television – My kids have not stopped asking if we water down the milk!)
Begin the habit of portioning small quantities of snacks for the kiddos in to small ziploc baggies. Doing this will also help teach healthy eating habits.

Grow your own garden

Now, this is something that my kids are super-excited about. They can't wait to help till the ground, plant the seeds, and tend a garden full of tomatoes, watermelon and herbs. We're thinking about a few fruit trees, too.
Thank you for all of the great tips, Sanyika!
You can check out Sanyika's Smart Money Blog, where she enjoys sharing her financial expertise. She is such a beautiful person, both inside and out. Don't you just love her name?
Now, for some quick shots from the Green Room at the Fox News studio.

Ray and myself, with Juliet and her youngest admirer, Noah.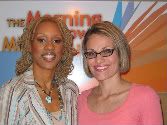 Financial Fitness Coach, Sanyika, and me.
What an experience this was!
Thank you for having us, Mike and Juliet!
cross posted on Organized Chaos