Just last week, I had an incredibly painful infection in a tooth that I should have had filled ages ago. I dragged myself to the dentist, feeling miserable, only to be told I needed a root canal. My first thought was to get it done asap, but I had to stop myself. I remembered what I had heard about the importance of a second opinion, and I booked an appointment to see the Endodontist as soon as he had an appointment available.
In a recent poll, conducted by Harris Interactive on behalf of Invisalign, 70% of respondents said they would seek a second opinion for a costly home repair, more than half would for a major car repair, and 30% would for personal electronics repair. By contrast, just 19% said they would seek a second opinion for a medical condition, 17% for a medical procedure, and a dismal 6% for dental work.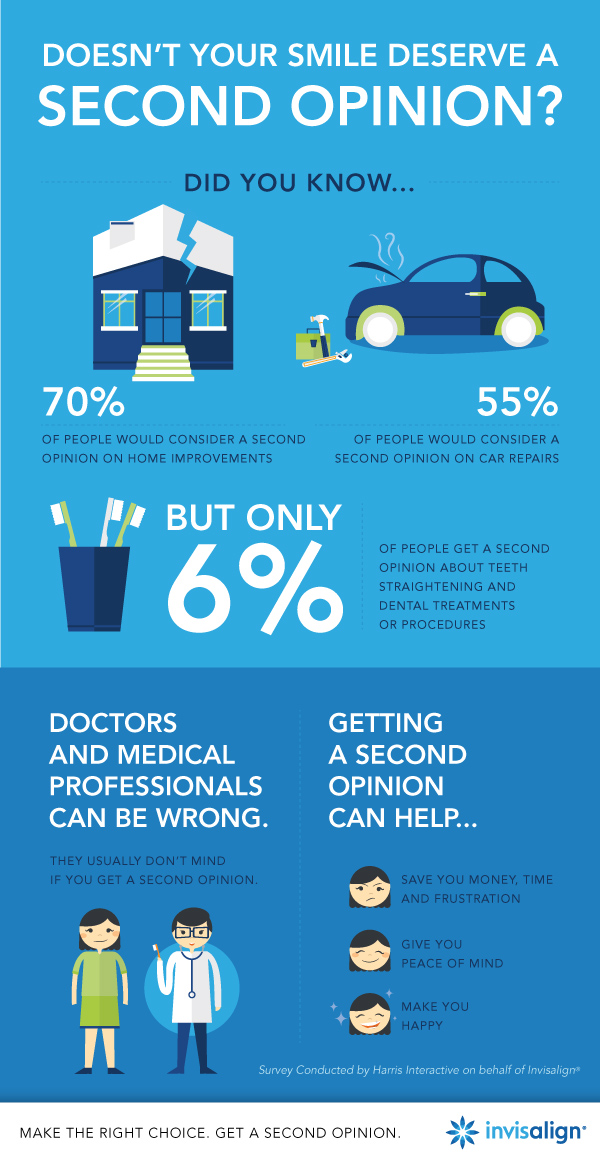 Needless to say, I needed that root canal. But, getting that second opinion eased my mind and solidified the importance of getting the pain under control the proper way.
Have you been told that you or your teen need teeth straightening? Being that Invisalign aligners are slighter younger than wire and bracket braces, you may have been told it wasn't posible to go the Invisalign route. But, be sure to check with an Invisalign provider in your neck o' the woods. A second opinion could make the difference between the freedom of clear (nearly invisible) aligners or a mouth full of metal!
I am working with Invisalign and, while I'm not being compensated for this post, my twins are receiving full Invisalign treatment in exchange.