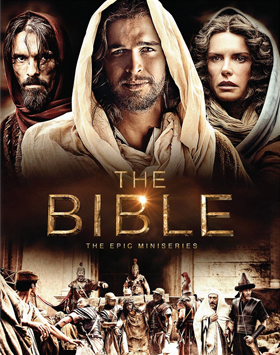 THE BIBLE, a series shown on HISTORY over four Sundays, culminating on Easter, was created and executive produced by Mark Burnett (The Voice, Survivor, Shark Tank) and Roma Downey (star of Touched by an Angel). A landmark television event, THE BIBLE combines one of the greatest collections of stories ever assembled with live action and state-of-the-art CGI. THE BIBLE arrived on Blu-ray and DVD on April 2 with hours of exclusive special features and extras. Executive producers Roma Downey and Mark Burnett's THE BIBLE continues to be a cultural phenomenon and draw audiences from across all platforms including books, DVDs, music and downloads, inspiring viewers.

The Bible: The Epic Mini Series (4-DVD Set)
Retail Value: $59.99
Courtesy of Twentieth Century Fox Home Entertainment & Motive Entertainment, get swept up into the adventure, drama and wonder of the Bible with this 10-hour miniseries from Roma Downey (Touched by an Angel) and her husband, producer Mark Burnett (Survivor). Breathtaking in scope and scale, The Bible features powerful performances, exotic locales and dazzling visual effects that breathe spectacular life into the dramatic tales of faith and courage from Genesis through Revelation. Available on DVD and Blu-Ray: April 2.
The Bible Series CD – Music Inspired by the Epic Miniseries
Retail Value: $9.99
Courtesy of Word Entertainment & Motive Entertainment, the 12-song musical companion inspired by the epic miniseries, The Bible, features top Christian artists performing songs that highlight the various themes from the series, anchored by Francesca Battistelli's new recording of the Peter Gabriel hit, "In Your Eyes".
~~~~~~~~~~
Download the FREE Bible App
Courtesy of LifeChurch.tv and The Bible Series have provided FREE access to the YouVersion Bible App, a free Bible for your smartphone, tablet or computer featuring more than 400 Bible versions in over 200 languages. Access the FREE Bible App at: http://www.bibleseries.tv/bibleapp/
~~~~~~~~~~
Enter to win!

Leave a comment below telling me about your favorite verse in the Bible. You know, the one you think of when you need some encouragement, or the one you seem to have on your mind all the time.

On April 22nd, I will randomly choose a winner from the valid entries who will receive the DVD series and the music CD!
Discolure: I received the DVD series and a music CD in exchange for hosting this giveaway.