Christmas decorations go up right after Halloween and Thanksgiving is all but forgotten. But, Thanksgiving is one of my favorite holidays and Fall is my all-time favorite season.
Fall means sweaters and boots, hot apple cider and pumpkin spice lattes, baking and crafts.
Wait… what?
Okay, y'all know I'm not a big crafter. But, this year I wanted to make some fun place cards to set on our table for our Thanksgiving meal. I tried last year, but 13-month-old Timmy wasn't havin' it. This year I was determined! With help from Sara, Julia, Noah, and Ben, I made these cute little Turkey Day Place Cards for everyone.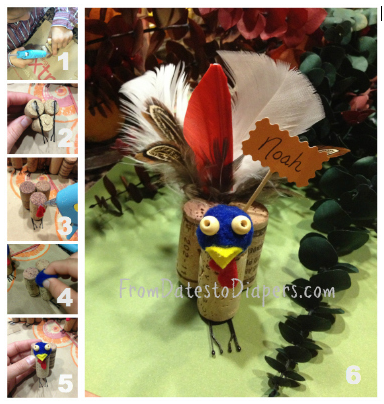 Cute, huh?
Here's what you need for each turkey ::
3 corks
2 bobby pins
a medium pom pom
two small wooden beads
a small diamond cut from yellow felt
two small teardrops cut from red felt
feathers
a toothpick
name card
Here's how we made them ::
Hot glue three wine corks together to make a triangle.
Glue the bobby pins to the bottom of the corks for the feet.
Attach the red felt tear drops to the front of the cork with a bit of glue.
Glue the pom pom to the top of the cork.
Add beads and beak to the pom pom.
Glue a variety of feathers to the back of the two rear corks, and attach the name card with a toothpick.
We made 23 of these little boogers! Let me know if you make some.
Maybe tomorrow we'll make Oreo Turkeys. You know, just because.