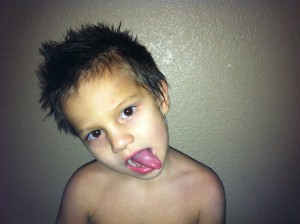 Today was a day that God used to strengthen me. To stretch me. To test my patience and my willingness to lean on Him.
You see, Noah is my little wild child. God knows I love him, but he tests and pushes his limits every.single.day. Just when I thought he couldn't push me any further, today happened.
Noah is the reason why I wanted to pull my hair out today. Noah is the reason why a glass of wine  sounded so very good this evening. Noah is the reason why I was crying out to God for strength all.day.long.
Not a bad thing, crying out to God. I really should do it more often.
Just last week, I started a day of school with the kids only to see grumpiness, unwillingness to obey and get along, disgruntled spirits, and loads of contention.
I cried out to God for help.
That day not much math work was done, no spelling words were practiced, penmanship was put on the back burner, and no one learned about the early explorers. Instead, we spent an entire day – yes, hours – reading and discussing God's Word. We talked about obedience and contentment, kindness, love and loyalty. We prayed for each other and we prayed for ourselves.
At the end of the day I was tired. My kids were tired. But, it was a day spent stretching and growing. A test, of sorts.  And, I think we all passed.
Today? I'm not so sure.