As you may know, my four oldest kids attend a public charter school. Our teachers spent countless hours preparing their classrooms at the beginning of the year. They spend much time preparing lessons for the kids. And, each day, they pour themselves in to the children.
I'm working with Office Depot to recognize the contributions teachers make every day to support students. Did you know…
$1,000: Out-of-pocket amount spent by the average teacher each year on essential classroom supplies
92%: Percentage of teachers who report spending their own money on classroom supplies
$1.3 billion: Total out-of-pocket amount spent nationally by teachers on classroom supplies each year
This next week is Teacher Appreciation Week adn I think it's about time to make a change. Don't you?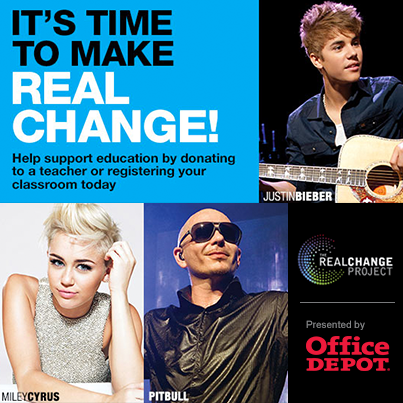 How can we create REAL change in our children's schools?
Well, for starters, you can register your children's teacher TODAY with Office Depot's charity partner, AdoptaClassroom.org, to participate in the REAL Change Project and be eligible for funding from donors nationwide. 100% of AdoptAClassroom.org donations goes directly to teachers, so they don't have to spend their own money on supplies! Everything you need to get started can be found in the Office Depot #TeachersChangeLives toolbox.
Office Depot is also hosting the #TeachersChangeLives Pinterest Sweepstakes. You can get involved to win gift cards for yourself AND teachers. Prizes for three winners includes a $100 Office Depot gift card for each, along with a $50 gift card which will be sent to the teacher of your choice. Enter now!
Disclosure: I am an Office Depot REAL Change blog ambassador. This post is part of a campaign where I was compensated for my time. To learn more about REAL Change, visit their website.