Preparing to decorate for Christmas always brings me such mixed feelings. It is so much work to pull out the boxes of decorations we have collected over the years, but I do love going through them year after year. Sifting through each box of homemade ornaments, white lights and colored lights, little nativity scenes, and garland, is sure to get us in the holiday spirit, but it's such a conglomerate of different colors, with no real theme. That's okay, though – I love the way the house looks decorated with items that bring so much joy as we think about all of the memories each item possesses.
I took a stroll through Walmart's Christmas Shop, with a gift card in hand, to try to find a few new items to add to help us deck the halls. I tend to lean toward traditional colors and found a couple of great items at affordable prices.
I really like to hang wreaths… They are such a simple way to decorate. I'm thinking that this Pine Cone Wreath would bring a classic look to our front door.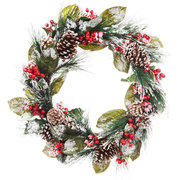 Candles use to reside on our home's every surface. Not so much anymore, being that we have lots of little pyros living with us. I like the idea of substituting wicked candles with flameless votives, especially when placed in a vase filled with cranberries or other festive fruit. No fire hazard to worry about and these little boogers can fool even the most observant guest.
Next shopping trip will result in new stockings for each member of our family. I plan to have them each personalized and, now that our family is complete, I can be sure that they will all match! What do you think of these?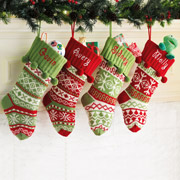 Every year I purchase a new ornament for each of my children. Sometimes they represent a special event that took place during the year; sometimes they're ornaments that just reminded me of a particular kiddo. This year I couldn't go wrong with purchasing a couple of ornament sets.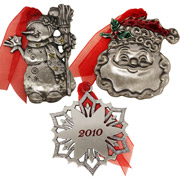 Some day I may choose a theme for our decorations, filling our house with specific colors or some uniformity, but for now I enjoy adding little bits of goodness to our growing collection.
How do you decorate for Christmas?
Do you have a theme? Or, do you decorate as we do, with a little bit of everything?
I am a part of the Walmart Moms program and Walmart has provided me with the above mentioned gift card, as well as compensation for my time in creating this post. My participation is voluntary and opinions are my own.