BigFoot is always feeling moody … can you relate? I certainly can, especially these days. One minute I'm feeling on top of the world, the next just a wee bit impatient and grumpy. I can blame it on hormones, but what about BigFoot? One things for sure and for certain – he's a guy who's in high demand! (Kind of like a mom with seven kiddos maybe? heehee)
I've been having fun with the BigFoot App on Facebook where I can let all of my friends know what kind of mood I'm in. I typically did that anyway, but this app brings sharing my mood to a whole new level. I hope you'll check out the app and then enter The Bigfoot Moods Sweepstakes for a chance to win your very own Bigfoot the Monster! How much fun would it be to put one of these guys under your tree this Christmas?!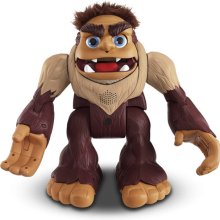 I have been compensated for my participation in this campaign.