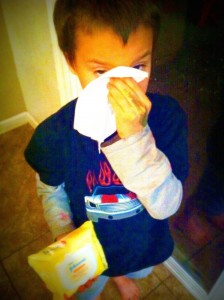 Based on some of your Photo Contest entries, I am certain that most of you moms out there have had to scrub and scrub your babies (and big guys) clean more than once. Am I right?
I wasn't joking when I said that I keep wipes everywhere. They are handy for any one of my kids to grab, at any time, to get themselves cleaned up. Johnson's Hand & Face Wipes smell good and feel good, no matter how hard you have to scrub. And, boy… do my kids have to scrub!
In fact, just the other day, Josh came to me with his hands and face covered in an inky mess. Not only did he get himself clean with our Hand & Face Wipes, but he only used one wipe. Just one. These little boogers (the wipes, not my kids) are effective and affordable!
Before I announce this week's winner, I want to remind you of your last chance to enter Johnson's Messy Photo Contest. As long as you haven't won during any previous week, you can enter this week by sending me a picture of your child/ren in a messy situation.   You get an extra day this week, but don't delay… Be sure you get your messy photo entries in to me before 11pm (pst) on Sunday, March 7th. Not only will the winning photo this week earn the entrant a spot as a finalist, but this fabulous prize package becomes theirs!
(See additional information and complete rules HERE.)
And, now I'd like to show you top three messiest photos this last week ::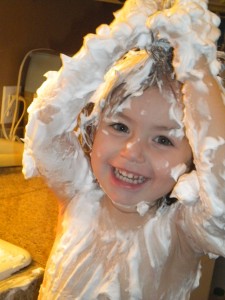 But, what you all are waiting for ::
The winning photo for Week Three, and the third finalist in Johnson's Messy Photo Contest:
Check out all of our entries these last three weeks ::