Our family loves to travel. We go on day trips, spend weekends away and take week-long excursions. Traveling with kids is always an adventure, whether you have just one or an army. Whether you are flying, driving or traveling the countryside on a train.
The story I am about to tell you took place a little over seven years ago… Far from home. This is the story of some unlucky travelers and family of very kind strangers.
Ray and I had spent a few days in Lake Tahoe with a very young Ethan, Zach and Julia. We were heading back down the mountain to warmer weather and decided to stop and play in the snow one last time. The boys were so excited, but Julia and I… not so much. I really don't like to be cold and Julia was tired and hungry, so she and I sat in the car, while her brothers and daddy got out to play.
After quite some time, I left Julia sitting on the front passenger seat, bundled up and toasty warm, and hopped out to capture just a couple of photos of my boys playing in the white powder… I wasn't planning to be outside long and was not at all prepared for the icy cold wind that sent chills up my spine. I snapped two or three pictures, standing just inches from the car door. Freezing cold, I turned to open the car door only to realize that it was locked!
Julia, being far too young to understand how easy it was to unlock the door, stood up on the seat and began to grin at me. Then she began to giggle. Soon she was laughing at me, as I jumped up and down trying to show her through the closed window how to unlock the car door. She thought this was funny! But, I was cold!
I hollered for Ray and he immediately called AAA, only to be told it would be close to an hour before help would arrive. Not only would I have to stand in the cold for that long, but anything could happen to Julia while she bean to explore the inside of our vehicle all by herself.
The boys soon began to tire of playing in the snow and ice. They started to complain of being cold. Time was ticking by ever so slowly.
Across the parking lot, warm and comfortable in the cab of their truck, sat an older couple. Their children were out enjoying a snowball fight when they noticed our predicament. They came over to us and asked what they could do to help. There wasn't much, really. However, they insisted on having the boys and I join them in the warmth of their truck, while Ray continued to coax and coach Julia in to unlocking the car doors, all the while keeping a very close eye on her.
What a relief to find such kind and caring people to offer us help and comfort!
Not long was I able to chat with this nice family before Julia miraculously, and quite by accident, touched the button on the passenger door, unlocking our car!
What a bigger relief to be able to squeeze my baby girl again!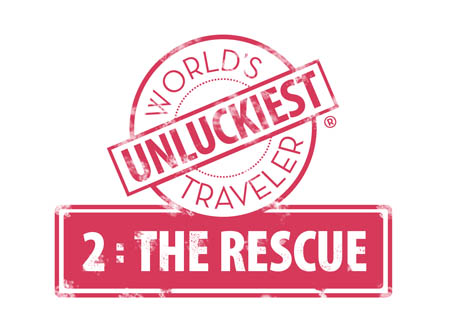 Do you have a story of a time when strangers helped you in time of trouble while travelling? Perhaps YOU were the good Samaritan offering help when needed? Travel Guard would like to hear all about it, either way. Enter the World's Unluckiest Traveler 2: The Rescue contest by nominating your hero. If your story wins, you get two plane tickets and your hero gets a $10,000 vacation!
I'd also like to invite you to join us from 9-10 pm ET on Aug. 1 to share your travel stories, acts of kindness you've experienced while traveling, or about how you may have helped someone else in need while traveling. It will be fun, and there'll be prizes, too! You can find the details and RSVP at TravelingMom.com.
I have been compensated by TravelingMom.com to write this post and serve as a panelist at the Traveling Mom Travel Guard Twitter party.