My kiddos love to eat fruit. This simple fact sure helps when you need to make sure that all six kiddos get enough. For a while I was in the habit of making fruit smoothies every morning, and am trying to get back in to this yummy habit. I would add our nutritional supplement, EnerPrime, turning them into "Shrek Smoothies." The kiddos would not only get a couple of servings of fruit, but they would also slurp up their vitamins, too.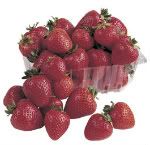 Anyway, strawberries are one of our favorites. We eat them by the handfuls, throw them in our smoothies, cut them up for strawberry shortcake, and we all love fresh strawberry ice cream. I even make a dip for our strawberries that is to die for! (See below for recipe-It's super easy.)
Did you know that California provides 88% of the nation's strawberries? We experienced an incredibly bountiful harvest this year… With over 35,000 acres of fields across this sunny state, the growers picked nearly 6 million crates of delicious, ripe strawberries and delivered them to grocery stores nationwide.
Here are some fun strawberry facts to share with your kids:
If you lined up all of the

strawberries

grown in California in one straight line, they would wrap around the entire Earth 15 times.
Guessing game! There are about 200 seeds on the outside of each strawberry.
California harvests over a billion pounds of

strawberries

annually.
One acre of land (about the size of one football field) grows about 50,000 pounds of

strawberries – that's the same weight as 4 elephants!
Check out Strawberryville… It's an online destination for kids full of interactive games, activities and kid-friendly recipes!
Here are some additional facts that we moms should know:
Strawberries contain powerful antioxidants and rank second among the top ten fruits in antioxidant capacity: one serving of

strawberries

contains more Vitamin C than an orange.

Strawberries may help reduce the risk of heart disease, fight some types of cancer and lower blood pressure. Not bad for a little red berry!

Don't forget! The antioxidants in

strawberries also aid in memory performance and may help prevent Alzheimer's disease by reducing oxidative stress and inflammation, two key factors that can cause age-related diminished brain function.
Hundreds of strawberry recipes can be found here, but here is that amazing dip I was telling you about:
Combine a jar of Jet-Puff Marshmallow Creme and an 8oz package of Cream Cheese. Blend until smooth. Voila! Super easy. Super yummy!