In the middle of my world of chaos, with the daily routine of life as a mom of many, it's so easy for me to get bogged down with my to-do lists and busy calendar, what I lack in comparison to others. I tend to lose sight of the blessings in my life and what is really important.
Can you relate?
I recently read a post written by my friend's husband about being grateful for our blessings. His musings were a great reminder for me to stop and smell the roses and not to take my family, and the rest what God so freely gave me, for granted. Thank you for that, Bill!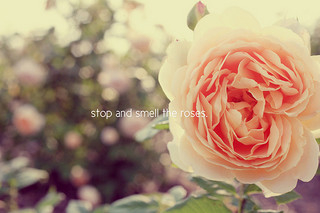 I truly desire to spend less time worrying about the stuff that doesn't matter. I'd like to focus more on setting a Godly example for my kids, playing with them as I watch them grow, laughing with my husband, even the simple act of just staring at the stars or noticing those roses.
Talk back!
How do you, as a busy parent, slow down and remember to dwell on what is truly important and not on that which is fleeting?
photo credit: rottnapples via photopin cc