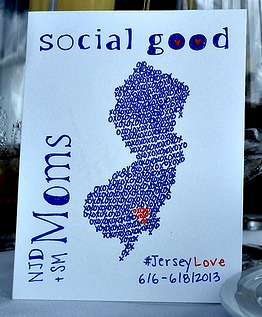 Not a day has gone by in the last several weeks that I haven't thought of my trip to New Jersey. If you recall, I went with 39 fabulous social media moms in hopes to bring some social media love to a place that had been devastated by hurricane Sandy.
But, what I experienced was a bit of a surprise to me. I made new friends and deepened friendships with some amazing women – women who did and will always play such a huge role in my life.
But, more than that, I discovered that the New Jersey shores certainly need some love, but not the kind I originally had in mind. New Jersey, specifically the beaches of Belmar and the boardwalk of Atlantic City, are alive and kicking; just waiting for visitors!
Belmar
The day we spent in Belmar just happened to be the day Tropical Storm Andrea powered through. It was dreary and wet, but not even the rain could stop us. We did what we planned to do – several of my fellow moms and their  children braved the storm and went surfing!
D6 SurfSkimmer
D6 Sports was the star of the day. They brought their brand new SurfSkimmers for the kiddos to try. The innovative skimboarding product is perfect for the little guys. While moms and dads are out in the water enjoying the waves, and the big kids are crushing it on their own skimboard, now the little guys and girls can join in on the family fun in a safe way with their SurfSkimmer. It was so great to see my friends' kids out there on the waves!
Belmar Mayor Matt
Thanks to D6, and the efforts of our fearless leaders, we were able to hand over a sizable donation to Mayor Matt to help the displaced families of Belmar. While the businesses along the beach are alive and well, many families are still homeless. This money will help restore the community and I am proud to have been a part of the solution.
The JerseyLove trip was made possible in part by sponsorship. D6 enabled us to be transported to Belmar for the day, be fed, dressed in appropriate attire (aka: wetsuits) and to make a donation to the displaced families still trying to rebuild in the town of Belmar. We are so grateful for their support in making this event happen. We were not monetarily compensated for our individual participation. All opinions are our own. 
Caesar's 
We had the great privilege of being hosted for the several nights we were in Atlantic City by Caesar's. Not only did they cover my room, but they also treated us to a fabulous dinner at Mia. I can't wait to bring my family back to Caesar's for the royal treatment they are sure to give all of their guests.
Steel Pier, Atlantic City
Our afternoon at Steel Pier came complete with more clouds and rain. BUT, we had a great time in spite of the gloomy weather! Cotton Candy, Funnel Cake, and shopping along the boardwalk kept us busy for hours.
We were so lucky to have a local treat while in Atlantic City – Fralinger's Salt Water Taffy! They take great pride in their traditions and make all of their candies, chocolates, and confections the old-fashioned way, using the original recipes and techniques pioneered long ago. Yum!
As you can see, the Jersey shore is open and ready for you this summer!