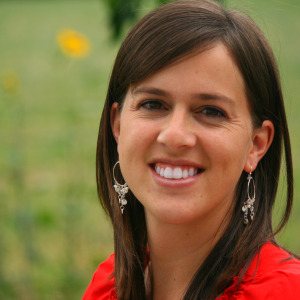 We have a very special guest here at From Dates to Diapers today, to help us out with our challenge to be more purposeful about doing crafts and fun activities with our kids.

Marie is a mother of 3 living in Utah. She's the founder of Make and Takes, a top rated parenting blog featuring kids crafts, home crafts, recipes, and parenting tips. She's listed as one of Nielsen's Power Mom 50, is a regular contributor at Alphamom, Snackpicks, and Craftzine, and is a hostess of SocialLuxe Lounge. When she's not crafting with her kids, she loves to run, read, and blog!

Please help me welcome Marie!

~~~~~~~~~~~~~~~~


I'm excited to be guest posting today, sharing a Wintry craft. We're using white paint and toothbrushes to bring the snowy fun indoors.
Supplies for Snowy Winter Wonderland:
white paint
old toothbrushes
paper plate
cardstock paper – the thicker the better, but any paper can be used
embellishments – yarn, stickers, crayons, googley eyes, etc.
Steps:
1. Fold a piece of cardstock paper in half to make a crease. Open it back up and squeeze a few drops of white paint onto the paper. You can put the paint anywhere you like, but stay at least 2-3 inches from the top and bottom so it doesn't ooze out.
2. Press the paper together and rub your fingers all around, helping to spread the paint. Sometimes you can shape which way the paint will go by pressing your fingers up or out.
3. Open your paper and see what creation you've made. Hopefully, it's turned into something that looks like a familiar object, or I'm sure your kids will be able to see some sort of shape. We think our looks like a small child dressed for winter, even wearing a snow hat.
4. Now it's time to make the falling snow. Pour a little bit of white paint onto a paper plate. Dip your toothbrush in and tap off any excess paint. With newspaper or a drop cloth and in an area where paint can be sprayed, you'll flick the toothbrush using your thumb on the bristles. You'll see paint spray onto the paper, resembling snow.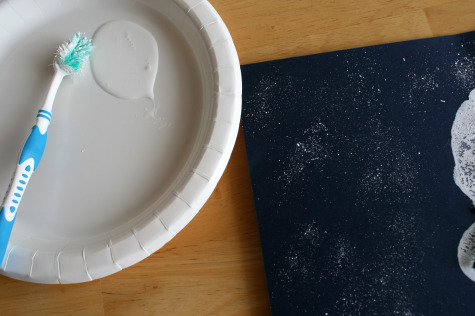 Let the paint dry completely, then you can add embellishments. We cut a hole on either side of this little winter boy and tied yarn around for a scarf. We added googley eyes and a crayon mouth. Have fun indoors creating your white wintry scene.
What a simple and fun craft that you can do with your kids this week! Please help me thank Marie.

Now, head over to Make and Takes and check out all of the fabulous crafts and activities that you can do with your kiddos. Let me know which one you would try. Oooh, and please let me know if you try one!