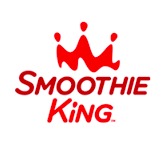 You're invited to Smoothie King's Cedar Park grand opening this Saturday from 9am-noon!
Smoothie King, the premier smoothie bar and nutritional lifestyle center in the industry, will unveil its 700th new store on Saturday morning, with a grand opening event at its new (and very first) Cedar Park location.
Kids, 12 years and younger, are encouraged to participate in the "Smoothie King 700 Step Challenge," which is designed to get youngsters to be more physically active, by taking 700 steps.  Participants are given a "700 Step Challenge" card to track their progress during the week by doing things like drinking water, jumping rope and eating fruits and vegetables.  Kids with completed cards can redeem them at any Smoothie King store for a free 12 oz smoothie.  The most creative kid will earn the ultimate bragging rights (upon winning) of being crowned Smoothie King or Smoothie Queen and will receive special recognition through an award and free gifts.
Smoothie King has something special planned for the adults, too – Complimentary massages will be offered at the grand opening event!
With its store opening and challenge, Smoothie King hopes to entice Cedar Park residents to adopt healthier lifestyles by incorporating more fitness into their daily routines, and adding smoothies and healthy snacks to their diets.
The new Cedar Park store is Smoothie King's fifth Austin-area location.  Other local Smoothie King locations are on William Cannon Drive, North Lamar Boulevard, West 24th Street and in Round Rock.