I was compensated for this sponsored post made possible by Mom Spark Media. Thoughts are my own.
We've always been fans of P&G. From Bounce and Bounty to Venus and Vick's, this family loves it all. (I even have a pretty extensive Cover Girl collection!) What's more is that P&G has always made an effort to make moms' lives easier.
They're at it again with their new community for women – P&G everyday. I was excited to sign up, simply because I am always looking for ways to save time and money, and I enjoy finding great tips and tricks fpr making my life as a busy mom even a bit easier.
I love that P&G everyday offers resourceful ideas and products curated by moms FOR moms. With this new community, P&G is committed to make every day just a little easier for us, so we can achieve a life full of rewarding moments with our families in every way.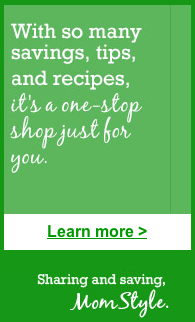 Featuring content and resources on beauty, family, food, health, home and more, P&G everyday is becoming a trusted source for us. Among other things, I have have discovered::
Delicious recipes, beauty trends, and smart tips
New products to try out for yourself, family and home
Product Ratings and Reviews
Fresh Ideas and Inspiration
Coupons and Samples from your trusted brands
Support and Knowledge
P&G everyday™ is your online platform created by Procter & Gamble, a company that has been establishing brands for the past 175 years, helping people around the world have extraordinary days. Every day.
I was compensated for this sponsored post made possible by Mom Spark Media. Thoughts are my own