Contigo has some brand new Shake & Go tumblers and we all love them! So easy for the kids, they can make their own chocolate milk without any help and without making a mess. Pull the straw out of the lid and it takes just a few shakes for a super-easy one-handed drinking solution.
Make it and take it to go! Perfect for popular water enhancers, powdered beverages, and iced coffees and teas, this NEW Shake & Go tumbler provides an easier, no-mess way to prepare and enjoy your favorite drinks. The patent-pending AUTOCLOSE technology means 100% leak-proof shaking and mixing* so you never have to stir with your straw (or finger) again. Our sweat-proof double-wall design and shatter-resistant, BPA-free Tritan provides a better way to enjoy your favorite drinks at home or on-the-go. Simply make it, shake it and take it.
Contigo sent us a fun "Shaken Not Stirred" sampler pack, which included four Shake & Go tumblers and a mix-in sampler pack. We went to work and had a blast shaking up our drinks, especially Noah!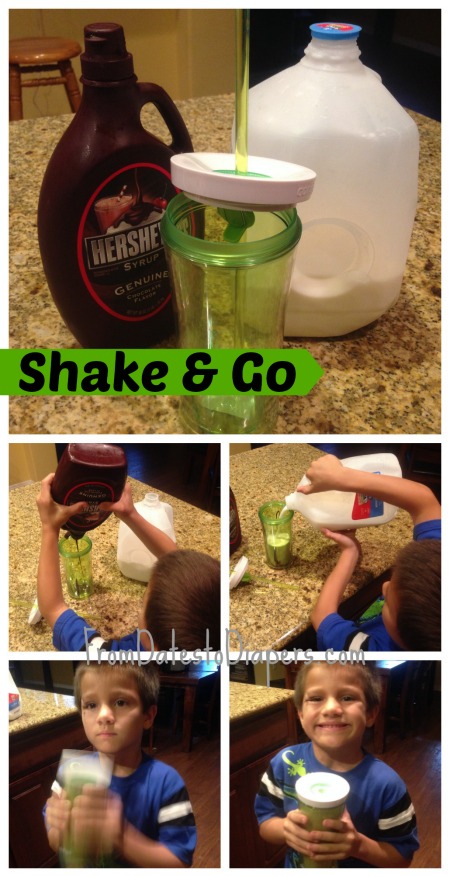 As a mom, I'm sure you are always on the go, as am I. Iced tea gets me through the day (I would be lost with my Keurig) and I constantly have a tumbler or mug with me as I run around. These Shake & Go tumblers have become my favorite, simply because I can pull the straw out and throw it all in my purse. They're perfect "mommy sippy cups"!
I know you want to try these fabulous tumblers, right? Well, leave me a comment below telling me about how you stay hydrated on the go, what your favorite beverage is, and/or what it is about the Contigo Shake & Go tumbler you find most appealling. You can leave a comment once a day through October 11th. Remember to leave a comment if you follow Contigo on Twitter or like them on Facebook, too. I'll pick TWO winners, each to receive a set of two tumblers!
The fine folks at Contigo also gave me a discount code to share, so all of you can try their new Shake & Go tumblers, too! Enter to code SHAKE20 to receive 20% off your order through October 31st.
I was sent product as an incentive to host this giveaway. No other compensation was received.