We all like to make resolutions at the beginning of the New Year. Commitments to improve something about ourselves; perhaps to diet, work out, stop drinking, and the like. If you're anything like me, you also make resolutions to improve your family relationships that may include not yelling at your kids, spending more quality time with your spouse, or something similar. After a few weeks of being extra careful not to break those New Year's Resolutions, they either become a new and wonderful habit, or they are forgotten.
Which camp would you fall in to?
Either way, no worries, you can make new "resolutions" this month, with it being Self-Improvement Month and all. Now would be a great time to focus on any of those desires to improve areas of your life, such as exercising more, eating better, or being more aware of your well-being and self-confidence.
One of the physical improvements you may decide to make this Fall is to fix your smile. Perhaps you know you would smile more if you didn't worry so much about that one snaggle tooth that needs to be straightened out. Maybe your confidence needs a boost with a straight smile. Take the Smile Assessment to see if Invisalign is right for you.
Since most of us are moms and it's hardly ever about US, hearing that it's Self-Improvement Month may be just the reminder you need to get your kiddos an appointment with an ortho for a consult to see if Invisalign is right for them. Our kids sometimes need a push to be more confident in their appearance, just as we do. Having Ethan and Zach go through Invisalign treatment did wonders for their fragile teen confidence levels. (Although, come to find out, they are still very anti-selfies!)
What will you do to celebrate Self-Improvement Month? How about you just smile big and post a #selfie?!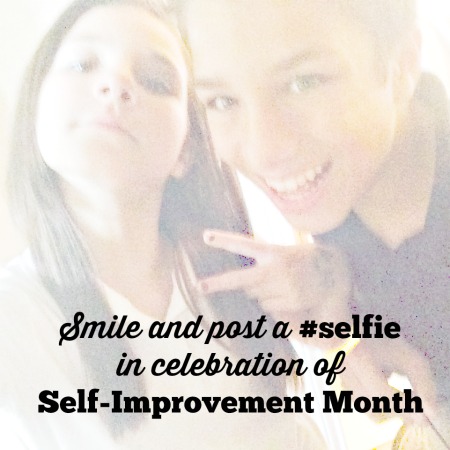 I'm a member of the Teen Invisalign Mom Advisory Board, and both Ethan and Zach are receiving complimentary treatment.