Krusteaz is a staple around here. The pancake mix is a favorite and there are so many delicious holiday inspired mixes we've tried out most recently. The Lemon Bars and Crumb Cake are so yummy, and we can't wait to try the Molten Deep Dish Classic Cookies. I'll let you know how it goes!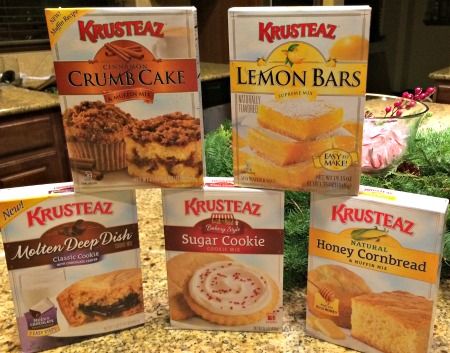 Are you a fan of Krusteaz? Join me in tuning in to the Krusteaz Virtual Holiday Baking Event with Catherine McCord, of Weelicious, TOMORROW, Saturday, December 14 from 1:00 – 3:00 PM EST taking place at www.krusteaz.com/holidays. During this FREE webcast, Catherine will share her favorite recipes and some holiday tip ideas. You don't want to miss it!
If you are not able to tune in, check out the recipes Catherine created just for you! They are perfect for the holidays and, with a little help from Krusteaz, are super simple to make.
The Crumb Cake Muffin Doughnuts looks scrumptious, don't they?
Krusteaz has also kicked off "Seize the What If" Facebook Contest. To enter the contest, simply select your favorite Krusteaz product, add in three original ingredients and name your unique recipe. All entries are eligible to receive a coupon for free product. Out of all these submissions, 10 finalists will be selected who will win a year's supply of Krusteaz products! Be sure to enter by December 31st.
Disclosure: I received product and coupons in exchange for this post. All thoughts and opinions are mine.