Dr. Seuss books are some of my all-time favorites. In fact, if I remember correctly, Hop on Pop and Green Eggs and Ham were among the very first books I ever read all by myself. When Ray graduated from UCLA, his aunt gave him Oh, the Places You'll Go! with a beautiful sentiment written inside. And, fast forward a bunch of years and I read Dr. Suess books to all of our children, teaching them to read with Pop, Sam, and the Cat in the Hat.
March 2nd happens to be Dr. Suess' birthday and Read Across America Day is a nationwide reading celebration that takes place annually on this day. Across the country, thousands of schools, libraries, and community centers participate by bringing together kids, teens, and books. This year, Josh and Noah's school is planning something extra fun… It's a big secret, but I can tell you that it involves lots of tall, red and white hats!
So, what will you do to celebrate? How about some green eggs and ham? Hop on over to NEA's Read Across America site for activities, lesson plans, and more. Or, head over to Pinterest to find lots of fun ideas for a big birthday party for Dr. Suess. 

How about heading to Wal-mart, where they are offering a great deal so you can either start your Dr. Seuss library or, do like we did, and add to it. Regular priced Dr. Seuss beginner books are on sale for $5, instead of the regular price of $8.99, and the Dr. Seuss board books are only $3.50 (regularly $4.99).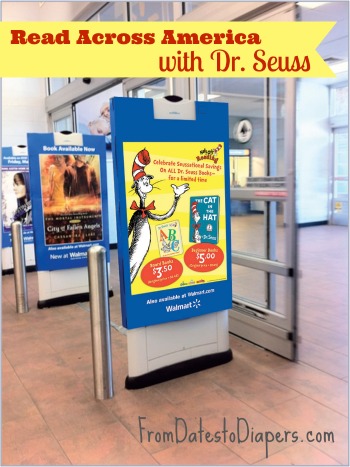 As a participant in the Walmart Moms Program, I've received compensation for my time and efforts in creating this post. All thoughts and opinions are my own.