Most of my friends know me as having a major sweet-tooth. This reputation does not come from my love of cakes, cookies, or sweet breads, but more from my love of candy! Sure, I love a good cake, but definitely have my favorites. Carrot Cake and Pumpkin Cake are two for which I would turn down even my most favored candy! Maybe it's the cream cheese frosting…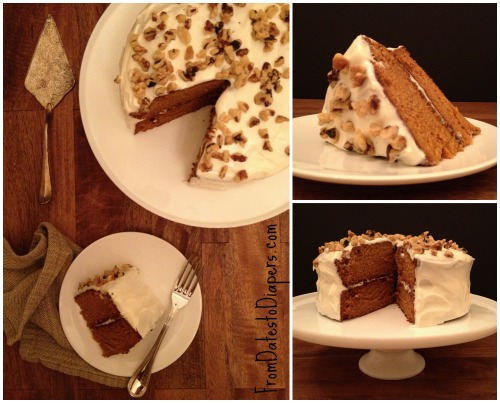 My Grandmother, Mom, aunts, and sister, all make a killer carrot cake, but I first tasted Pumpkin Cake at a pumpkin farm in California many years ago, and instantly fell in love.
My sister and I found a recipe online a few years ago and modified it slightly to fit our tastes. The following is the recipe we now use, every Autumn, to create some of the BEST cake around! I'm sure there is a pumpkin farm around here, but getting fresh pumpkins at Walmart is just as good. You can even use a can of Libby's Pumpkin Puree.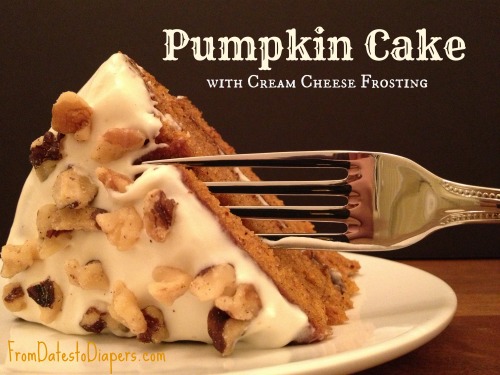 PUMPKIN CAKE
2 cups fresh pumpkin puree (or 1-16 oz can of Libby's Pumpkin Puree)
2 cups sugar
1 cup vegetable oil
1 teaspoon vanilla
4 beaten eggs
2 cups all-purpose flour
2 teaspoons baking soda
1 teaspoon ground cinnamon
1/2 teaspoon allspice
1/2 teaspoon nutmeg
1/2 teaspoon salt
1 cup finely chopped walnuts, optional
Preheat oven to 350 degrees.
Beat pumpkin, sugar, oil and vanilla in a large mixing bowl.
Add eggs and mix well.
Combine dry ingredients, except nuts (if using) and gradually add to pumpkin mixture, beating until well blended.
Fold in nuts.
Pour into a greased 9 x 13 inch baking pan/dish.
Bake for 35- 40 minutes or until center tests done.
Cool completely before frosting.
CREAM CHEESE FROSTING
1-8oz package cream cheese
6 tablespoons softened butter
1 teaspoon vanilla
1 3/4-2 cups confectioner's sugar
3 teaspoons milk
chopped walnuts (optional)
Beat cream cheese, butter and vanilla until smooth.
Gradually add sugar and mix until well combined and smooth.
Add milk and beat until frosting is the spreading consistency you desire.
Frost cake and sprinkle with chopped nuts if you like.
Do you have a sweet tooth? What's your favorite cake?
Let me know if you try my recipe for Punkin' Cake and how you like it!
As a participant in the Walmart Moms Program, I've received compensation for my time and efforts in creating this post. All thoughts and opinions are my own.