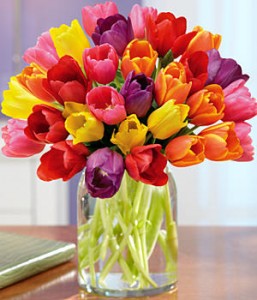 I love having fresh flowers in the house. Tulips are definitely among my favorites. There is just something cheerful about their bright colors and delicate petals. A bouquet of freshly blooming assorted tulips reminds me of a colorful sunrise… so joyful.
ProFlowers sent me a bouquet of 30 Rainbow Tulips. They arrived in bulb form, simply meaning they were completely closed, and they "bloomed" right before our eyes within several hours of placing them in a vase full of fresh water. So vibrant were the colors in this assortment that a smile was inevitable every time I looked at them.
You can see my bouquet in my Easter Basket post… I chose to use the image here in this post directly from the ProFlowers site, simply because it was taken during the day, where mine was taken at night. Mine were just as bright and vibrant as those pictured here, though, promise!
These beautiful tulips lasted an entire week, but would have lasted longer had my precocious three-year old not decided to play "I love you. I love you not." with them all. I was so sad that my entire bouquet was petal-less that Julia called her daddy and asked him to bring home some new ones for me. It was a sweet gesture, but this new bouquet didn't quite compare to the bouquet from ProFlowers. (Thank you, though, honey!)
Win it!
Since Mother's Day is right around the corner, my friends at ProFlowers would like to offer you a special opportunity to win a $50 ProFlowers gift code. Of course, they would love for the winner to choose some Mother's Day flowers, but the gift code will be good towards anything on their site.
Leave me a comment, before 9pm PT on May 2nd, telling me about your favorite flower and why it brings you such joy. Feel free to share this giveaway with your Facebook friends or Twitter followers, up to once a day. Just be sure you leave me a separate comment each time.
Buy it!
If you are looking for a fresh way to show your mom, grandmother, or favorite aunt how much you love her this Mother's Day visit ProFlowers to find the perfect gift. But first, check out their fabulous coupons page, where you can find great deals and offers. You can also receive 20% off your order just by becoming a fan of ProFlowers on Facebook!
I received the above mentioned Tulips in exchange for this giveaway, however no monetary compensation was received and the thoughts and opinions expressed are 100% mine.