Today is Day 3 of potty training Noah, and I have to say it's going very well. I'm thinking it helps that his older brothers and sister remind him that he needs to use the potty like a big boy, rather than going in his pants. Most of all, though, I know he was more than ready to shed the diaper.
Even though I have been through this training process five times before – four, really, since Ben trained himself – I still dreaded it this go 'round. All of my boys were close to three when I began, so they all picked it up pretty quickly, especially with our potty training system.
I'd like to share some items we've had handy with each potty training experience ::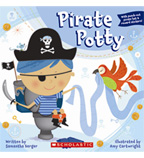 Books — Books that provide helpful, step-by-step stories that introduce girls & boys to the concept of toilet training are incredibly helpful. There are a couple of books by Samantha Berger that we've had the opportunity to enjoy. Pirate Potty is a pirate-themed, toilet-training book that is fit for the little swashbuckler in your life. This book includes a pirate's hat and reward stickers, while Princess Potty follows the same theme, but is fit for the Royal Highness in your life, complete with a tiara and reward stickers!
A Potty Chair — For the first little while, it can be intimidating for your little one to sit on a great big, adult-sized toilet. I can only imagine the sense of feeling like I could fall in! There are many different types of potty chairs, from simple to deluxe, but we have found that we really only need a basic chair with a removable "bowl" to easily rinse out between bathroom breaks.
Rewards & Incentives — While stickers work as rewards for some children, others need a bit more incentive to sit on the potty and avoid going in their pants. I let each of my children choose their own reward. Some of our favorite incentives have included licorice nibs and M&M's.
Flushable Wet Wipes — Toilet paper can be rough on a tiny tush. Using wet wipes will help prevent rashes and also ensure a clean little booty.
Pull-Ups — I firmly believe that, once you toss out the diapers to begin potty training, you should steer clear of any type of covering that keeps the little tush dry. An accident is more apparent when wearing undies and we want our little trainee to know that s/he has had an accident. That said, we do use Pull-Ups at night, just until we can have dry nights.
Pull-Ups® training pants provided me with product coupons to try out the new Learning Designs Pull-Ups® with Toy Story 3/Princess and the Frog characters. I have also received Princess Potty and Pirate Potty to review. However, my opinions are entirely my own and I have not been paid to publish positive sentiments towards Pull-Ups® products or the Potty books.