As you know, Pop Secret recently sponsored a movie night for my family and some friends. We weren't the only one who had some fun watching an Oscar nominated movie with Pop Secret, though… Take a look at what all of us Pop Secret Moms had goin' on ::
Now, remember, there are just a couple of days left to enter my Movie Night Giveaway. You also still have time to head over and enter the Pop! Camera! Action! sweepstakes. I wouldn't want to miss out!
YOU'RE INVITED!
This Thursday night at 8pm EST, you can join me and the other Pop Secret Moms on Twitter for a super fun Twitter Party! We'll be talking about the Oscars, our favorite movies and actors, and giving away lots of fun prizes – including video cameras. How cool is that!?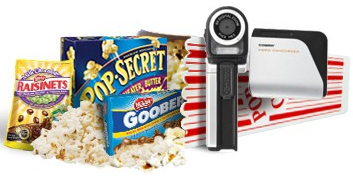 Make sure you RSVP for the Pop! Camera! Action! Twitter Party and follow me on Twitter to join the fun!
See you Thursday!
I am a Pop Secret Mom sponsored blogger, courtesy of Mom Spark Media.